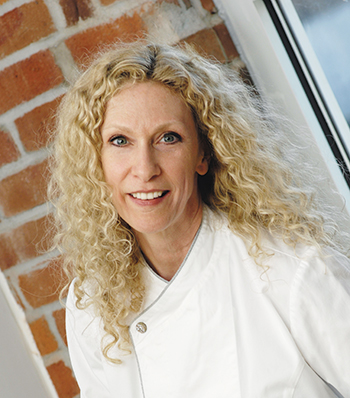 Written by Stephen Exel
Photos by Duane Tinkey
There's truth in the adage "there are no mistakes in life." You are where you're supposed to be; you meet the people you are supposed to meet; and you (hopefully) learn the lessons these situations are meant to teach you.
Such was the case for me with a recent assignment for dsm: Spend some time with holistic health and nutrition counselor Sheree Clark and have her teach me some raw-food recipes. Pretty uncomplicated. But what happened from there was a game-changer.
But first, let's back up bit. Raw food is food consumed in its natural state: uncooked and barely manipulated. If that sounds like sustenance for tree-huggers, in Sheree's hands it also happens to be sophisticated, recognizable, easy to prepare and delicious.
My first meeting with Sheree took place at a class she teaches through her company, Fork in the Road LLC, on how to use a dehydrator, a boxy machine a bit larger than a microwave oven that blows warm air through food to remove its moisture and concentrate flavor. The students were amazingly ordinary—West Des Moines moms and housewives there to learn more about healthier ways to eat.
The recipes Sheree prepared for class intrigued. Onion bread made from yellow onions and sunflower and flax seeds had a slightly chewy texture somewhere between pumpernickel and a cracker, and it wasn't baked. There was almond milk and granola similar to muesli and dense, chocolatey macaroons made in a food processor. This was a new way to look at food for me. It's not cooking. For lack of a better term, the operative verb here is "preparing."
More interesting than the food was the teacher. Sheree was engaging, funny, practical and definitely not preachy. After class, we talked about how to approach the story. We chatted, discovering mutual interests—food, design—and a similar sense of humor.
Eventually we talked about the life of a food writer, at least this one. Sheree started offering advice, off the cuff. The approach seemed obvious then: Go through the process. For the purposes of a looming press deadline, we decided on an accelerated program.
Getting Started
The first step was completing a questionnaire regarding my health and lifestyle. It contained in-depth questions about how I live my life: what I eat, my activity level, relationships, my approach to alternative medical practices. I decided not to hedge, regardless of what might be revealed in this public magazine forum.
On our first consultation, Sheree arrived questionnaire in hand, with extensive notes. She started with a definitive statement. "I'm a Lutheran, raw-food vegan," she said. "You don't have to be. I'm not here to convert you."
"I'm Jewish, and a carnivore," I responded. "We'll get along fine."
Sheree explained her approach: The road to good health is a continuum. It's not about going vegan or becoming a "raw-foodist" overnight. Rather, it's about opening your eyes to choice, making smart decisions, repairing questionable ones. It's about incorporating healthy change into your life without giving up your life.
The fact is my life involves and revolves around food. I travel frequently, mostly for stories and events that are food- and wine-centric. For example, I recently attended the first Los Angeles Food and Wine Event. (Imagine Winefest Des Moines writ large, spread over five days.) By the third day, my stomach and liver were in complete revolt, done in by sipping this fine vintage and tasting that newest idea and consuming meals on a "gastro-normous" scale. When I returned home, getting back to a more reasonable diet and exercise routine was difficult. This is a frequent scenario for me.
"My goal for you is to help bring your diet back into balance when you return from a trip," Sheree began as she pushed slices of watermelon, rind and all, through a juicer, followed by whole limes. (The end result was a tasty essence of both.)
Sheree suggested a three-step approach. The first is to "juice, juice, juice," she said. "With juicing, you set yourself straight. It gives you a flood of nutrition. It also gets you in the 'I'm starting out good and gonna stay good' mind-set. It's fluid energy without being weighed down."
The best juices consist mostly of vegetables; if you use fruits, dilute them with water by 30 to 50 percent to tame the sugar rush, she said. Both fruits and vegetables should be fresh and organic.
We talked about the difference between using a juicer and a high-power blender, which doesn't extract the fiber from vegetables and fruits.
"Juices are concentrated and immediately assimilated nutrition," Sheree explained. "Smoothies are more like meal replacements. They don't have to be mutually exclusive. …Variety is key so you get the benefit of different nutrients, and the fiber in smoothies is very important."
Bread and Breakfast
The second step was to examine my eating habits. I consider myself a sane, healthy cook. I reserve butter and cream for the occasions I bake; olive oil is my cooking fat of choice; my sodium intake is low; chips, puffs, crackers, cookies and candy have no place in my cupboard. My go-to snack is a slice of bread, usually multigrain and fresh-baked. I'll eat it plain or toasted with butter. It makes me happy without a lot of guilt.
But now I know: Bread is my junk food.
OK, my world didn't collapse when Sheree pointed this out. But what I did learn is not so much about what to substitute, but to examine why I might be craving bread—or anything else. Once again, choice became the operative factor.
As far as breakfast is concerned, I thought I was on a healthy track, and by a traditional nutritionist's standards, I am. Most mornings I have oatmeal, blueberries, Greek yogurt and honey, all carefully measured. I call it my "little old man breakfast," I guess because it feels more sedentary; I'm no longer grabbing a bagel and coffee on the way to work, or for that matter, wolfing down eggs and hash browns to soak up damage from the evening before. Those days are long gone.
But according to Sheree, the overnight fasting period should be extended as long as possible to give the body ample time to properly digest food, especially if you typically end the day with a large meal. Start the day with a concentrated, non-processed food in a reasonable serving size—a juice, a smoothie, a fruit plate. "Sometimes the 'hungry in the morning' is habit, or an emotional thing," Sheree said. "But whatever you choose to do, make sure what you eat is whole and organic—definitely not processed."
Keep It Raw
The third step Sheree suggested can be the most challenging: Maintain a raw diet when I'm not traveling or doing something food/work-related. "My personal eating style is 100 percent raw, 95 percent of the time," Sheree told me. In fact, she will indulge in a cocktail or glass of wine and an occasional cooked food. "I don't let the bad things dominate my lifestyle," she said.
A raw diet means eating mostly fruits, vegetables, nuts and seeds, not heated to over 105 degrees. "These are all nutrition-dense, easy to digest things!" she said. "They'll feed and fuel your body and give you concentrated energy without a lot of effort."
I asked about things like ceviche, tartare, carpaccio, sashimi—technically raw foods. "Those are all right, if you make sure the sources are organic and sustainable," Sheree responded. "While most raw foodists are vegan, you don't have to be." Could I live on steak and salmon tartare, alternating with evenings at a sushi-ya? Yes, I guess I could.
Her other advice was more common sense and what we've all been hearing for years: Read labels; avoid refined and processed foods, caffeine and alcohol; drink water in the amount of half your weight in ounces daily; question the side effects of medications and seek a natural alternative.
"Ultimately, if you want to change your life, change your lifestyle," Sheree concluded.
How I Changed
I've started juicing and incorporating smoothies into my everyday diet. This required an investment; a good juicer typically costs $400. But I do feel a change in energy, and I no longer drink processed juices. I've given up coffee for the most part. The "little old man breakfast" is still around, mostly because I like it. My workouts are more productive.
I'm more raw by day—for example, salads have replaced sandwiches (goodbye bread!) and I make a mean mushroom carpaccio—but still cook dinner. Because processed foods were never a part of my diet, that wasn't difficult. Raw zucchini tastes just as good as sautéed. I appreciate the flavor of a steak more, now that I have one less frequently. The same holds true for a piece of cake.
Overall, working with Sheree provided that knock on the door, that tap on the shoulder—the reminder that everything you do contains an element of choice. It's the ultimate question: Why choose bad when you can choose good? "Eating healthier is a series of small steps towards a bigger goal," Sheree says. "Be deliberate about your decisions."
---
Easy Asian Carrot
Cabbage Salad
Yield: 6–8 servings
Equipment
Food processor
Blender (optional)
Salad
1 pound carrots, tops removed
1 head red cabbage
1/2 cup unhulled sesame seeds,
as garnish
Dressing
1/3 cup olive oil
1/3 cup fresh lemon juice
1/3 cup nama shoyu or tamari
1-2 cloves minced garlic, to taste
1/2-1 teaspoon ginger powder, to taste
Shred carrots and cabbage in food processor, using shredding blade. Place vegetables in a large bowl. In a blender, combine dressing ingredients. Immediately before serving, shake dressing well and toss with shredded vegetables. Start with half the dressing and adjust to taste, adding more as needed. Top with sesame seeds.
---
Greek Dates
Yield: 4 servings
8 medjool dates, pitted
2 tablespoons raw walnuts, chopped
2 tablespoons raw almonds, chopped
2 tablespoons honey
1/2 teaspoon orange zest
Place the walnuts, almonds, honey and orange zest in a mixing bowl and stir to combine. Press 1 teaspoon of the mixture inside each date and reshape the date around the filling. Serve immediately or chill in the refrigerator for at least two hours before serving.
Store in a sealed container in the refrigerator. Greek Dates will keep for five days.
---
Juice
Process all ingredients in juicer. Vegetables are not peeled unless indicated.
ORANGE
3 medium oranges, peeled
1 pear
1 small sweet potato
GREEN
Freshly pressed wheatgrass
RED
1 small beet (optional to include greens for extra nutrition)
1 medium cucumber
1 red apple
3 leaves kale
1 stalk celery