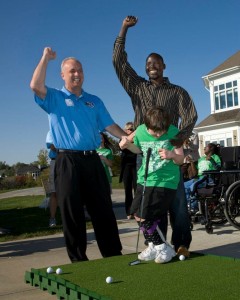 Break out your visor and dust off your clubs–'tis season that measures philanthropy in birdies and offers opportunities to connect on the course. The Principal Charity Classic, which benefits dozens of organizations, is May 29-June 3 at Glen Oaks Country Club. Over the past five years, the event has raised more than $3 million for a total of about 80 charities that serve children. What's more, it has about a $21 million economic impact each year, and players voted it the No. 1 event on the tour. What makes the tournament such an effective vehicle for fund-raising? Mary O'Keefe, senior vice president of the Principal Financial Group, Inc. and chair of the event, says the results aren't easy to come by, but that the secret has more to do with the people behind the event than anything else. O'Keefe shared her top tips for success that can apply to nonprofit events on and off the green:
"Have the greatest board ever.  Our board opens doors, makes sales calls, welcomes players and sponsors, hosts events and gives of their own funds.
"Approach sponsors with a value proposition that benefits them and their business – not just asks them to be good corporate citizens.
"Thank your unbelievable volunteers.  It takes more than 1,200 volunteers to put on this event and many of them have been working on it for years.
"Make it fun and try new things to keep people coming back.  We've added features that make it fun for the general public, not just golf fans.  But the golfers are crucial.  Make it a great activity for players and caddies.  They really put on the show."
Find event info, including links to donate through Birdies for Charity, at principalcharityclassic.com.