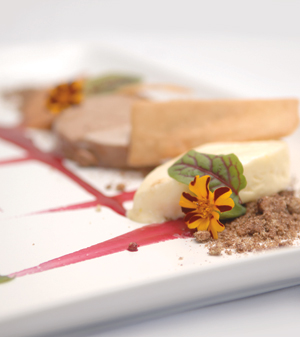 Restaurant Week will celebrate its fifth anniversary with another year of great cuisine at a great price. Chefs at 32 of the metro area's top restaurants will prepare special fixed-price menus Aug. 17-26 that will cost just $25 for one three-course dinner or for two lunches. The week provides not only a way to enjoy your favorite restaurants but also the perfect opportunity to check out new spots you've been hankering to try.
You'll not only savor fabulous food; you'll have a chance to win a two-night trip for two to California's Sonoma County. Donated by the Greater Des Moines Convention and Visitors Bureau, the package includes airfare, lodging, tasting passes to local wineries and more. Diners who submit a minimum of four Restaurant Week receipts are eligible for the drawing. For details, see page 12.
Click here to check out the menus chefs have created for Restaurant Week.
---
Written by Tom Perry
ALBA
524 E. SIXTH ST.; 244-0261
albadsm.com
Chef-owner Jason Simon's eatery is special. At, or near, the top of every important list that ranks the area's fine dining establishments, this East Village restaurant opened in 2008 to rave reviews. The kitchen here comes as close as any to being free range, plating specials that change and evolve constantly. To quash any suspicion that Simon and his team might be resting on laurels, Alba began recently to hand-make its own ricotta and mozzarella as well as pierogies.
AMERICANA RESTAURANT & LOUNGE
1312 LOCUST ST.; 283-1312
americanadsm.com
The setting is urbane. The ambience is smart. The Saturday and Sunday brunch buffet is epic. The cocktails in the lounge are fun and flawless. The modern American/Continental menu brings its own confident, culinary panache to downtown's Western Gateway. Hence, in a little more than a year, Americana has become a magnet for all occasions.
BARATTA'S
2320 SOUTH UNION ST.; 243-4516
barattas.com
This shrine to Des Moines' Italian-American culinary heritage has been a fixture on the city's South Side since the 1950s. Traditional red sauce favorites get their due respect in this one-time home of the Barrardi family. At the same time, the menu takes well-measured contemporary twists, giving star turns to steak, seafood and pasta updates.
BARU 66
6587 UNIVERSITY AVE., WINDSOR HEIGHTS; 277-6627
baru66.com
Iowa's freshest seasonal flavors soar to new heights in the hands of chef and co-owner David Baruthio. A native of France, who trained in Strasbourg and won awards in Europe, Baruthio prepares daily features to accompany French country classics such as onion soup, foie gras, steak au poivre and crème brulee. The James Beard Awards recognized Baru 66 as one of America's top 20 new restaurants in 2011.
BISTRO MONTAGE
2724 INGERSOLL AVE.; 557-1924
bistromontage.com
The city's first true French bistro set high standards for fine dining years ago. The bar has been raised again. Chef-owner Enosh Kelley recently opened for lunch, placing crepes on a well-focused menu that showcases fresh soups, salads, and sandwiches. He also brought in Des Moines native Ian Robertson, who trained in France, as the new chef de cuisine to add more swagger to one of the area's most confident kitchens.
BOS
401 LOCUST ST.; 284-1267
bosdesmoines.com
The staff sets contemporary Midwest cuisine on a pedestal here; Iowa corn chowder is one of the features. Located inside the historic Renaissance Des Moines Savery Hotel, this downtown restaurant celebrates comfort food and American standards in a refined setting. The menu proudly lists more than two dozen Midwest growers and producers.
CAFÉ DI SCALA
644 18th ST.; 244-1353
cafediscala.com
A tiny village in the mountains of southern Italy provided the inspiration for Tony Lemmo to launch his restaurant more than seven years ago. Today, Café di Scala is at or near the top of almost everyone's list for most romantic settings. But, really, it's an ever-evolving kitchen, with fresh handmade pasta, a keen interest in local ingredients and an award-winning all-Italian wine list, that keeps the tables full at this Victorian-era house in Sherman Hill.
CENTRO
1007 LOCUST ST.; 248-1780
centrodining.com
Some may find it difficult to believe that Centro will celebrate its 10th anniversary in November. The vibe at chef George Formaro's eatery in The Temple for Performing Arts is as lively as ever. Consistency is king here. From the pasta and fresh salads to the pizza, baked New York-style in 800-degree coal-fired ovens, everything always seems to hit its mark here.
CHEF'S KITCHEN
1903 BEAVER AVE.; 255-4411
chefskitchentogo.com
Local regulars would like to keep this place a well-kept secret. Different daily food and martini specials get high marks. Fish is flown in for Fridays, and, by popular demand, the clam chowder is an everyday special. Chef's Kitchen serves dinner hash browns that can best be described as gut-busting. A Breakfast DeBurgo is offered on Saturday and Sunday mornings.
CHRISTOPHER'S
2816 BEAVER AVE.; 274-3694
christophersdsm.com
One of the city's legacy restaurants, Christopher's remains full of fresh welcomes after nearly 50 years. Sitting down to a meal here can be either casual or elegant. The Giudicessi family's attention to detail has kept the pasta dishes and Italian-American features high on the list of the best that can be found locally. The same can be said for the pizza, which is made with hand-kneaded dough.
COSI CUCINA
1975 N.W. 86th ST., CLIVE; 278-8148
cosicucina.com
The desserts here are more than an afterthought. The cheesecake, in particular, has a devoted following. Family-owned and -operated, Cosi Cucina broke new ground 17 years ago when it fired up its wood-burning oven for pizzas. Today, candles on the tables help create a date-friendly, romantic destination. The kitchen is keeping up with the times by offering gluten-free pasta dishes for lunch and dinner upon request.
COURT AVENUE RESTAURANT & BREWING CO.
309 COURT AVE.; 282-2739
courtavebrew.com
Outstanding fresh, handcrafted beers have slaked many a thirst in the historic Court District since 1996, when "CABCo" began setting up its brew pub. The setting celebrates Iowa history. The eclectic menu offers a wide range of made-from-scratch dishes. Guests in search of gluten-free items have plenty from which to choose. The bar area and patio bustle on Saturdays during Des Moines' Downtown Farmers Market.
DJANGO
210 10th ST.; 288-0268
djangodesmoines.com
This downtown French-inspired brasserie has hit its stride in the past year. The kitchen flaunts its talent by plating special features that change constantly. Located in the Hotel Fort Des Moines, Django is sticking to its "All French-No Attitude" script by offering a casual, comfortable dining room and bar area that serves up everything from freshly shucked oysters to cheese and cured meat plates.
DOS RIOS CANTINA
AND TEQUILA LOUNGE
316 COURT AVE.; 282-2995
dosriosrestaurant.com
Some of the tequilas served at Dos Rios are almost impossible to find elsewhere in the United States. The margaritas feature fresh fruit juice and agave nectar. Meanwhile, the kitchen can shift gears as adroitly as any downtown. The menu changes with the time of day, starting with lunch, moving to midday, then switching to dinner and late night. Dining at a sidewalk table can be a sublime experience.
FLEMING'S PRIME STEAKHOUSE
& WINE BAR
150 S. JORDAN CREEK PARKWAY,
WEST DES MOINES; 457-2916
flemingssteakhouse.com
Meat eaters will find plenty to love at Fleming's. For a steakhouse, the kitchen is surprisingly versatile. The small plates, for example, are fresh and inventive, featuring nicely portioned servings of everything from ahi tuna to scallops to filet mignon. The wine bar lives up to its name by offering 100 wines by the glass. It's also well worth checking out the special deals and events here.
GINO'S WEST GLEN
5513 MILLS CIVIC PARKWAY,
WEST DES MOINES; 226-2320
ginosfoodsdsm.com
Legendary dishes from one of Des Moines' most highly regarded Italian-American restaurants converge harmoniously with new creations in a friendly and stylish atmosphere. The family of Gino Foggia has enhanced the suburban dining scene by opening here. Transporting beloved local flavors of handcrafted red sauces and salad dressings to West Glen Town Center is a true labor of love.
JOHNNY'S ITALIAN STEAKHOUSE
6800 FLEUR DRIVE; 287-0847
6075 MILLS CIVIC PARKWAY,
WEST DES MOINES; 333-5665
johnnysitaliansteakhouse.com
Everybody is likely to find menu items to love at Johnny's. More than just another top-shelf steak and chop place, Johnny's preserves the legacy of two fondly remembered Des Moines eateries—Johnnie's Vets Club and Johnny & Kay's. Chefs pay homage to longtime favorites while having the opportunity to bring their own innovative touches to menus that offer an assortment of cool, new-age flourishes.
LOUIE'S WINE DIVE
4040 UNIVERSITY AVE.; 777-3416
louieswinedive.com
One of the city's newest wining and dining venues, Louie's opened in June at the former site of the Iowa Bakery Cafe. Louie's embraces the motto "wine is supposed to be fun." Outside, the restaurant has a street-side patio. Inside, it is far from a "dive;" the décor is refined yet easy-going. More than 100 wines—all available by the glass—are served with comfort food entrees given new twists.
LUNA BISTRO + CATERING
621 DES MOINES ST.; 288-9849
lunabistro.com
This relatively new restaurant is a rising star in Des Moines' East Village. Owners Beth and Kris Van Tuyl delighted their regular patrons this spring when they were also able to open their popular lunch spot Wednesday through Saturday for dinner. The kitchen here specializes in embellishing classic dishes with ambitious new twists. The charming yet relaxed backdrop inside the historic Northland Building provides an ideal setting for a unique local dining experience.
MAXIE'S RESTAURANT & LOUNGE
1311 GRAND AVE., WEST DES MOINES;
223-1463
maxiesrestaurant.com
Tradition flourishes in the recently renovated and reinvented Maxie's. An easygoing establishment that has been locally owned and operated in the same location since 1967, Maxie's offers an extensive menu of solid, sure-bet favorites that include everything from Reubens to ribs. The half-pound Maxieburgers are worth any drive. The homemade onion rings are another crowd-pleaser.
MEZZODI'S
4519 FLEUR DRIVE; 287-3333
mezzodis.com
To survive as an Italian-American restaurant on the South Side requires attention to detail. At Mezzodi's, which has been in operation for a decade, local pasta and pizza favorites get their due respect from the kitchen. The Italian chops and Tuscan-style rib-eye steaks are entrees that win over new fans regularly. The $5 martinis from the lounge make Mezzodi's an ideal place for a cocktail and dinner.
MOJOS ON 86th
6163 N.W. 86TH ST., JOHNSTON; 334-3699
mojoson86th.com
Diners who want to experience how good locally produced foods can taste need to get their Mojo on. Iowa's freshest flavors get rock star treatment in the creative hands of chef Anthony Johnson. The fish and chips entrée, for example, features a perch fillet hand-dipped in a batter made with beer from Newton-based Madhouse Brewing Co. Flavors change regularly here, so Mojos' website encourages patrons to call for the latest updates.
PROOF
1301 LOCUST ST.; 244-0655
proofrestaurant.com
Chef Sean Wilson (formerly of the Kirkwood Lounge) took over this Mediterranean- and North African-inspired restaurant in the spring from Carly Groben. Wilson and co-owner Zach Mannheimer, Des Moines Social Club executive director, were given a nice running start for Proof's popular lunches by having access to Groben's recipes. This has allowed the new owners to put their own imprint on the dinners being served in their restaurant, located across from Western Gateway Park.
Raccoon River Brewing Co.
200 10th St.; 362-5222
raccoonbrew.com
This downtown brewpub, which recently celebrated its 15th anniversary, takes "pub fare" to a more refined level. Thoughtfully prepared and flavorful appetizers, sandwiches and main plates feature high-quality products like Niman Ranch pork. Be sure to sample one (or more!) of the hand-crafted brews, such as Vanilla Cream Ale or Waves of Amber Grain. Housed in a restored historic building, the brewpub has an energetic, casual vibe.
SBROCCO
208 COURT AVE.; 282-3663
sbroccowine.com
The home of Andrew Meek, one of Greater Des Moines' most esteemed chefs, Sbrocco was renovated and redesigned late in 2011. Downstairs, the Chef's Cellar has become a staging area for pairing events that feature both wines and beers. Meanwhile, upstairs, Meek's menu items bring a level of culinary whimsy and refinement to downtown's only authentic wine bar.
SPLASH SEAFOOD BAR & GRILL
303 LOCUST ST.; 244-5686
splash-seafood.com
The notion that excellent seafood can be elusive in the Midwest is dispelled here. Since 1998, when local businessman and avid Florida Keys angler Bruce Gerleman opened Splash, patrons have been diving into expertly prepared fish dishes. Chef Dominic Ianarelli's formal dining room is a special-occasion venue. The Splash Raw Oyster Bar & Fish Market, on the other hand, is comfy-cozy and more casually priced.
TAKI JAPANESE STEAKHOUSE
2677 86TH ST., URBANDALE; 331-3030
takisteakhouse.com
This popular spot has bustled for a decade at Westmark Plaza II. The crowds come for both the sushi and the teppanyaki (chef's cooking show). The Taki team specializes in classic preparations of fish and seafood that is caught in Hawaii and flown in overnight to the Midwest. Reservations are strongly recommended for the chef's cooking shows.
TALLY'S RESTAURANT, BAR & CATERING
2712 BEAVER AVE.; 279-2067
tallysbeaverdale.com
This Beaverdale café is home to the city's first rooftop patio and is among the few establishments offering hand-cut, dry-aged steaks. Chef-owner Robert Sanda, who offers personalized catering services, has crafted a diverse menu featuring Des Moines standards and exclusive dishes, many of which attract vegetarians and patrons from well beyond the neighborhood who are in search of gluten-free items.
TROSTEL'S GREENBRIAR
RESTAURANT & BAR
5810 MERLE HAY ROAD, JOHNSTON;
253-0124
greenbriartrostels.com
The Trostel name has stood for culinary excellence in Central Iowa since 1987. With Troy Trostel, an Iowa Restaurant Association chef of the year, at the helm, the Greenbrier's star continues to shine brightly. This is still a trusted place to go for either special occasions or casual dining. The weekly specialty items can be inspired dishes, influenced by the best the season and local farmers have to offer. The wine service has won excellence awards from the Wine Spectator every year since 2002.
TURSI'S LATIN KING
2200 HUBBELL AVE.; 266-4466
tursislatinking.com
Some restaurants seem to have an inexhaustible vibrancy of their own. So it is with Tursi's Latin King, which offers patrons family-style options. This East Side institution has been a friendly, welcoming place since 1947. Old-style signature dishes, such as the chicken spiedini and homemade pasta specialties, are dispatched with aplomb.
TWO RIVERS GRILLE – MARRIOTT
1250 JORDAN CREEK PARKWAY,
WEST DES MOINES; 267-1500
marriott.com
Forget the steak and chop house that operated previously at this Marriott. Executive chef Donald Garrett presided over the May 2012 opening of a drastically new airy and wide-open venue. To satisfy hotel guests, the American-style bistro embraces an array of coast-to-coast standards. But the kitchen also turns a spotlight on Iowa by plating its own de burgo special, using sausage from Graziano Bros., and turning to local farmers for in-season produce.