Vibrant abstractions of geometric images that appear to pulse with energy will star in a new exhibit opening Jan. 22 at the Des Moines Art Center. Focusing on the Op Art movement of 1960s, "Vibrations" will feature 25 works from the Art Center's Permanent Collections. Op artists took an optically oriented approach to abstraction, seeking to explore and stimulate visual perception by creating works, primarily serigraphs and screenprints, consisting of squares, grids, targets and other diagrams.
The works on display will include a lenticular print by Yaacov Agam, two screenprints of translucent veils of line by Carlos Cruz-Diez, and a color etching of alternating blocks of fine lines by Jesús Rafael Sotao. The exhibit also will include works by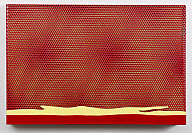 Pop artists Roy Lichtenstein and Bill Komodore, who used halftone dot patterns in their works, and other artists who aren't often considered part of the Op Art movement. Pictured: "Enamel Landscape" (1965) by Roy Lichtenstein (American 1923-1977), enamel on steel, 28 x 42 x 4 inches. Des Moines Art Center Permanent Collections.