Numerals, nuggets, trivia and tidbits
25
Number of bottles of sparkling wines that will be featured at "Toasting Tuesday," a new Winefest Des Moines event that will be June 4 at the Hub Spot on the Principal Riverwalk. Cost is $30 per person.
220
Number of singers, musicians, coaches, conductors, directors and staff members involved in Des Moines Metro Opera's three productions for its 2013 season.
50
Number of merchants participating in Urban 515's Urban Card program, founded by Kari Lantz of Des Moines. You pay $29.99 for the card, and you get discounts on local goods and services, plus other specials, for a year.
8,000
Approximate number of people who live in downtown Des Moines, according to Downtown Community Alliance.
10
Number of juried artists, out of 185, from Iowa who will show and sell their works at this year's Des Moines Arts Festival, June 28–30 at Western Gateway Park. Central Iowa artists include Roy Cacek, Linda Lewis, Chris Vance, Gene Brown, Judith Whipple (image above), and Brad and Sundie Ruppert.
---
Insider
Our take on where to go and what to do around town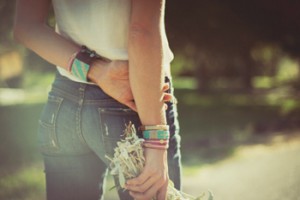 Create …
… your own necklaces, earrings and bracelets at Velvet Coat's "charms bar." Mix and match yellow or white bronze charms, handcrafted by California-based Love Heals, with leather or chain strands to make a personal fashion statement. The store also carries Love Heals' popular line of already-made jewelry, consisting of combinations of stones, leather, beading and macramé. Store manager Julia Talerico says the jewelry "looks great layered," adding that the cuffs with seed beads stitched in leather are particularly "amazing."
Whatever piece you choose, you'll get the satisfaction of knowing that your purchase will help others. Love Heals, a self-described "socially conscious family business," plants 10 trees in Ethiopia for every piece sold. Since 2009, purchases at Velvet Coat alone have resulted in 9,500 trees being planted, says Talerico. Overall, more than 1 million trees have been planted.
Velvet Coat, 500 E. Locust St. in the East Village, will host a trunk show of Love Heals jewelry from 10 a.m. to 5 p.m. April 24–27. More information: shopvelvetcoat.com.
---
Indulge …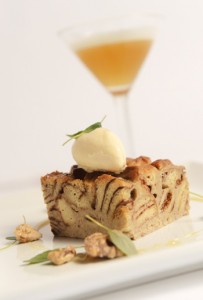 … in the bread pudding at Crème
Cupcake's Dessert Lounge. This luscious treat—cinnamon rolls mashed with ripe bananas and baked into a warm pudding, topped with toasted walnuts and rum butter sauce—has well-integrated flavors and an approachable texture, avoiding the dense heaviness that bedevils many bread puddings. We happened to be dining that night with a self-described bread pudding aficionado (who knew?) who, over the years, has sampled bread pudding in restaurants across the country and in Europe. He deemed this the best he's ever had. The Dessert Lounge, 543 28th St. in Des Moines, is open 5:30–10 p.m. Tuesday–Thursday; and 5:30 p.m.–midnight Friday
and Saturday.
---

Drink …
… coffee by a new Des Moines micro-roaster—and learn fun facts about American history while doing so. American Pride Roasters, which local residents Faith and David Mathews started last fall, offers nine different kinds of freshly roasted coffee—so fresh that if you buy it online, they'll roast it after you place your order—as well as several sampler packages and "coffee drops," beans covered in chocolate and butterscotch. Most of the coffees are organic or fair trade, and the flavored coffees are made with natural whole spices that the Mathewses grind by hand.
David Mathews decided to integrate his love of history—he earned a bachelor's degree in history from Iowa State University—with the endeavor, linking each coffee with a famous figure from Colonial America. For example, "The Madison," named after James Madison, consists of Costa Rican beans and a bit of cocoa and cinnamon that give the coffee "an intelligent flavor that represents the Father of the Bill of Rights. This is a darker roast but with a soft side—like Madison and his strong leadership yet with a heart for the people."
The coffees cost $10-$13.50 per pound and are available through americanprideroasters.com and at Gateway Market and the Downtown Farmers Market. The company also offers a monthly coffee club.
---

Go …
… to The Principal Charity Classic, which this year moves to Wakonda Club. About 80 PGA Champions Tour golfers, including Nick Price, Bernhard Langer and defending champ Jay Haas, will compete at the May 28-June 2 tournament.
Not only will you see great golf, but you'll help local children in the process. Over the past six years, the event has raised more than $4 million for charities serving youths. You also can support your favorite charity through the "Birdies for Charity" program. Participating nonprofit organizations solicit pledges from supporters based on the number of birdies the players make.
Another good-news fact: The event, which draws some 75,000 people each year, generates an annual economic impact of about $20.8 million.
Tickets for one day start at $15 (kids age 15 and under free) and go up to $200, which guarantees you a spot at three premier locations. For more information or to buy tickets, go to principalcharityclassic.com. Custom group packages also are available; call 279.4653 or email tickets@principalcharityclassic.com to learn more. Parking is free at Water Works Park.
---
Borrow …
… a book, and then share a tome of your own, at one of the "Little Free Libraries" in several local neighborhoods. We recently checked out four of them (have we ever told you how much fun our job is?) and found fiction from authors as diverse as George Orwell, Amy Tan and Louis L'Amour; nonfiction works on topics such as sports, health and art; and children's books.
The Little Free Library movement started in 2009 in Hudson, Wis., to promote reading and literacy through free book exchanges—anyone can pick up a book or leave one for others—and to foster a sense of community. The founders' original goal for the nonprofit organization was for 2,510 Little Free Libraries to be established around the world, one more than the number of libraries philanthropist Andrew Carnegie had built. That goal has been far exceeded; today, more than 6,000 Little Free Libraries can be found across the United States and in 36 countries.
The concept is simple: Construct or buy (through the Little Free Library organization) a box for books, mount it atop a post, install it in your yard or a common neighborhood space, and share books. The design can be whatever you want, whether a simple wooden box or a container with a more elaborate look, such as a house or school. In the metro area, find Little Free Libraries at 3900 Grand Ave., 415 28th St. and 2815 Center St. on Des Moines' west side; at Maryland Pike and Beaver Crest Drive in Beaverdale; and at 7231 Plum Drive, 4708 83rd St. and 3917 82nd St. in Urbandale. For more information on the Little Free Library movement and for additional Central Iowa locations, go to littlefreelibrary.org.