Written by Chad Michael Cox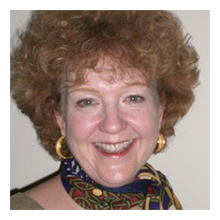 "In ancient times the storyteller was always thought to be the most intelligent person in the village," says Maureen Korte, a local professional storyteller. "I love that, and I love telling people that."
Korte sits near the entrance of the Des Moines Social Club's theater, where she is serving as host of "Story Mob," a quarterly storytelling event that invites the community to share stories using a selected prop. On this night in early April—the start of the new "Story Mob" season—the prop is an umbrella. Storytellers take to the stage to share a five-minute fiction or nonfiction story, then are scored by a panel of three judges. The storyteller with the highest score wins $100. Audience members, called the "mob," also get to vote, writing their choice on a sheet of paper that they then wad up and throw onto the stage. The storyteller with the greatest mob support wins $50.
Korte has loved telling stories for as long as she can remember. "My mother was approached by a neighbor who said that the stories I was telling were beyond cute, and she felt that my mother should get a handle on it because maybe I was going into lying," Korte recalls. "But my mother, in her great Irish wisdom said, 'O glory be to God. It's not a problem; it's a gift.' "
"I actually thought it was some kind of defect I had in my personality," Korte says about her storytelling passion. But eventually the neighbors began knocking on Maureen's door for a different reason when, as a mother herself, she would tell stories to her children and whichever of their friends happened to be in her home at the time. "I don't know what you do," Korte recalls her neighbors saying, "but my kid says you do it well and I'll give you 25 bucks if you do it for my kid's birthday party."
Korte, who also serves as director of educational programs for CultureAll, believes storytelling is a conversational and casual art form that doesn't require memorization. She explores her art while she speaks, testing her stories out on different audiences before writing them down. "The beauty of telling a story is that the audience doesn't know how you intend to end the story," which, she says, gives her the freedom to interpret a story in multiple ways. Although her stories may evolve over time, one thing hasn't changed, she says:  "Stories make people feel good."
The next Story Mob will be 7-9 p.m. June 27 at the Des Moines Social Club, with a children's book serving as the prop. Admission is $5 at the door. For more information and the complete schedule, click here.