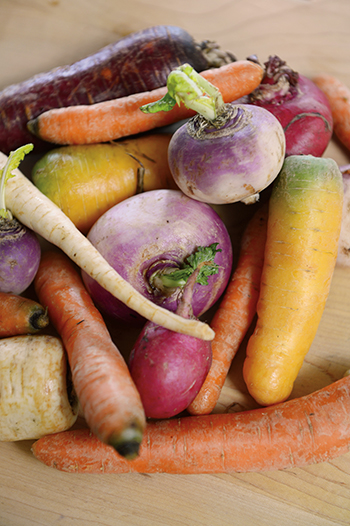 By Wini Moranville
An upcoming story for dsm magazine found me exploring three local, independent venues— Gateway Market, Campbell's Nutrition Center and New City Market—with admirable selections of natural and organic produce.
Look for the full story in the March/April issue; however, look for this seasonal find right now: Harmony Valley Farm's Organically Grown Soup Mix, available at all of the above venues.
Opening this package of parsnips, rutabagas, purple-top and sweet scarlet turnips, celery root and carrots (including red and yellow in addition to orange) is like getting a bag of treats from your Community Sponsored Agriculture farmer—but in winter.
While much produce this time of year is trucked in from far away, these gems come to us from Wisconsin. Organic and relatively local means fresh, vivid flavors: The carrots taste more carroty, the parsnips more parsnipy—you get the idea. Plus, their colors make them beautiful on the plate.
Although the veggies are labeled "Soup Mix," I find them stellar for roasting for a side dish: Peel and roughly chop into 1-inch pieces; toss with olive oil, thyme or rosemary (if you like), and salt and pepper. Spread in a shallow roasting pan and bake in a 400°F oven until tender and browned, about 35 minutes, stirring and turning occasionally.
In other news:
• If you love progressive, sophisticated Midwestern cooking (or maybe you're not quite sure what that means), check out my review of Table 128 in the current  issue of dsm.
• Anyone interested in how the French manage to eat well night after night—without spending all day in the kitchen—might enjoy coming to my talk on the subject at the West Des Moines Public Library on Jan. 23 at 7 p.m. I'll also discuss the "French women don't get fat" myth. The event is free and open to the public.