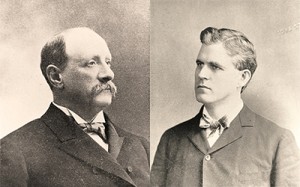 Written by David Elbert
Des Moines has 712 streets, 713 if you count Interstate 235, which we will for reasons that will soon become clear. The names of 135 of our streets begin with numbers that range from 1 to 80. (The total includes many numbers that are repeated, some as many as three times. For example, Des Moines has a 38th Street, a 38th Court and a 38th Place.)
That leaves 578 streets that are named for people, including 15 presidents, places and other things. The alphabetical list runs from Adams Avenue to Zwart Road.
Des Moines was founded in 1851, and by the time the Iowa Capitol building was completed in 1884, the city had become a thriving commercial center. During the early years, several street names changed. For example, the street we know as Grand Avenue was originally called Sycamore Street downtown and Greenwood Avenue west of downtown. The entire thoroughfare was renamed Grand Avenue in 1887.
Like many cities, the namesakes for most of Des Moines' streets were men. As the late reporter Jim Pollock explained in a 1993 article in The Des Moines Register: "You don't find many 'founding mothers' memorialized in Des Moines. Women were mostly behind the scenes when the city was being established. So when you do find a female name that's been saved and passed down, it's likely to be of more recent origin—or even nationwide origin."
Still, the namesakes of many of our local streets had colorful histories, even if much of it has long since passed from conscious memory.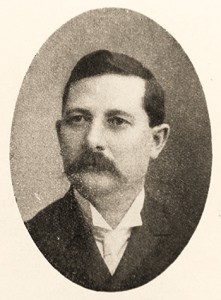 Bell Avenue
The industrial street that provides the northern boundary of Des Moines' AIB College of Business is named for an early president of a different institution of higher learning. Hill M. Bell led Drake University from 1902 until 1918.
Bell was born in Ohio in 1860. Six years later, his parents moved to a farm in Jasper County, Iowa, and young Bell decided he wanted to do something beyond the farm. Beginning at age 18, he alternately taught and went to school, ultimately graduating from Western Normal College in Shenandoah. His first full-time job was as superintendent of schools in Kellogg.
In 1888, Bell joined Drake as a professor of mathematics, later serving as dean of the colleges of education and liberal arts before becoming Drake's fourth president. The school was struggling and in debt when Bell took over. He is credited with putting it on sound financial footing and raising the funds needed to create the core of the modern Drake campus.
MacVicar Freeway
When the Des Moines portion of Interstate 235 was nearing completion in 1963, the City Council voted to name the 10-mile stretch the John MacVicar Freeway in honor of the father-son team who served a total of eight terms as mayor and whose combined service in city government covered more than 50 years. As an article on the Iowa Department of Transportation's website puts it: "The two John MacVicars, father and son, were the closest thing to a political dynasty Des Moines has ever known."
The elder John MacVicar arrived in Des Moines from Pennsylvania in 1882 at the age of 23, and by the end of the decade had been elected mayor of the suburb of North Des Moines. MacVicar helped merge North Des Moines and other suburbs into the capital city in 1890 and fought a decades-long battle to make the local waterworks a city-owned utility.
John Sr. was active in national reform movements, twice serving as president of the League of American Municipalities, and was elected mayor of Des Moines in 1895, 1897, 1913, 1915 and 1927. He died in office shortly after his final election.
John MacVicar Jr. was the city's superintendent of streets during the 1930s and was elected mayor in 1941, 1943 and 1945. He died in 1950.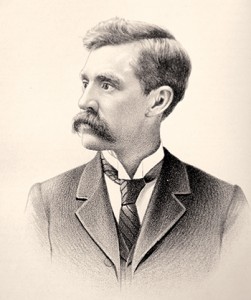 Cummins Parkway
Cummins Parkway is a tree-lined residential parkway that begins at Merle Hay Road and winds its way under the MacVicar Freeway before ending. Its namesake, Albert B. Cummins, was a lawyer, railroad man and politician who was born in 1850 in Pennsylvania. He arrived in Des Moines at age 28, after working as a construction engineer for an Eastern railroad and studying law in Chicago.
The law firm Cummins established in Des Moines was said to be "probably the largest corporation practice of any firm in Iowa," according to an 1890 publication that provided biographical sketches of more than 500 Polk County pioneers. Cummins also continued his railroad ties, serving as a lawyer for the Des Moines and Northern Railway Co. and the Des Moines Union Railway Co. He began serving in the Iowa General Assembly in 1888 and was elected to three terms as governor beginning in 1902.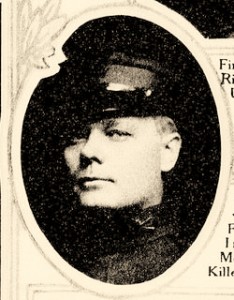 Fleur Drive
Many local Baby Boomers grew up incorrectly assuming Fleur Drive was named for Florence "Fleur" Cowles, the highly visible third wife of publisher Gardner "Mike" Cowles. It was an understandable mistake. The family had a prominent home (now Skip's restaurant) located on Fleur Drive near the airport, and from the time of her marriage to Mike Cowles in 1946 until long after their divorce in 1955, Fleur was a larger-than-life personality whose name was seemingly everywhere.
But Fleur Cowles isn't the namesake for one of Des Moines' best-known streets. That honor goes to Capt. Edward O. Fleur, a popular Army officer who was killed in a World War I gas attack.
Fleur was born in Sweden in 1874 and arrived in New York at age 17. After attending night school, he moved to Des Moines, which had a large Swedish community. Fleur served in the Spanish American War (1898-1901) and remained in the Iowa National Guard, returning to combat in World War I.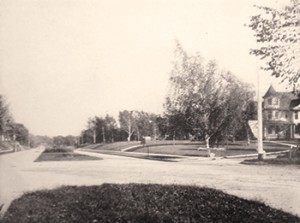 Kingman Boulevard
The Kingman family arrived in the New World before the Revolutionary War. Albert Smith Kingman was born and raised on a farm in upstate New York near Lake Ontario.
After leaving New York, Kingman spent time in Michigan, Ohio and Kentucky before heading to Iowa, where he stopped in Ottumwa and then arrived in Polk County in 1850.
Kingman worked as a hired farmhand, saving enough money to buy 70 acres of uncleared prairie north and west of downtown at a location that includes today's Kingman Boulevard. The landowner planted a nursery, which became a lucrative business until the growth of Des Moines presented a new opportunity. Kingman was able to sell off 40 acres for development as residential lots for $1,000 an acre, a handsome price in the 1880s.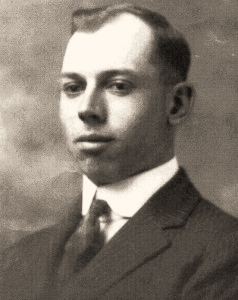 Merle Hay Road
Since the 1960s, most Iowans have associated the name Merle Hay with the mall that was built in 1959 on the site of the former St. Gabriel's Monastery. The mall and the street took their names from Merle David Hay, a Glidden-area farm boy, who is believed to be the first American killed in World War I.
Hay was a clerk at a farm implement store when war was declared on Germany in April 1917. He enlisted the following month and by June was aboard a troop ship headed to France. He was killed during the early hours of Nov. 3, 1917, when Germans made a surprise attack on the trenches near Artois, France.
The 21-year-old Iowan, who had been on sentry duty, was found face down in the mud. He had been shot beneath his right eye, and his throat had been cut. The watch his mother had given him had stopped at 2:40 a.m.
By the end of that same month, 58th Street, the main connection between Des Moines and Camp Dodge, had been renamed Merle Hay Road.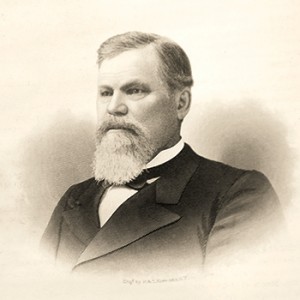 Ingersoll Avenue
The north-of-Grand retail district that runs along Ingersoll Avenue is, in fact, the third incarnation of the street that was named after Ebenezer Jared Ingersoll, a 19th-century insurance executive. The street was originally a truck route for horse-drawn trailers making deliveries to the back doors of the mansions on Grand Avenue. Streetcars were added during the 1890s, along with an amusement park at the western terminal at Polk Boulevard.
Like the Kingman famiily, the Ingersoll family arrived in America before the Revolutionary War, and by the time Ebenezer was born, was known for producing men and women of great ability. The Des Moines insurance executive was born in upstate New York in 1828 and had established a lucrative law practice in a small town near Lake Ontario before moving to Des Moines
in 1858.
In 1865, Ingersoll organized the Hawkeye Insurance Co. Its headquarters, built in 1868 on Fourth Street just north of Court Avenue, is today the oldest commercial building in Des Moines. Ingersoll's profile in an 1890 Polk County portrait album said the insurance man's "ability as a manager has contributed largely in making … Des Moines the 'Hartford' of Iowa."
Scott Avenue
Alexander Scott was neither a successful businessman nor a war hero. But the namesake of Scott Avenue played a unique role in Des Moines history, and because of that, he is the only person known to be buried on the Iowa Statehouse grounds.
Scott was born in Crawford County, Ind., in 1818, 25 years before the outpost known as Fort Des Moines was established. He was, however, one of the first to be hired to supply the fort with provisions. When Indians were removed from Iowa, Scott's trading business followed them to Kansas.
He returned to Des Moines when the government began selling land in Polk County and acquired 500 acres, which included the hill where the Iowa Capitol now stands. Scott built the first bridge across the Des Moines River and for a time had the appearance of a successful businessman. He even presented the statehouse grounds to Iowa's then-new state government at no cost after lawmakers decided in 1857 to move the state capital from Iowa City to Des Moines.
But others took advantage of his generosity, and before long, Scott was broke. In 1859, he joined the gold rush to Colorado but never made it. He died in a camp near Fort Kearney, Neb. His body was returned to Des Moines, where his brother buried it in a grave located just south of the Iowa Judicial Building.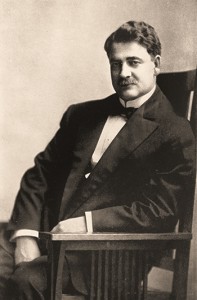 Waterbury Road, Waterbury Circle
Frank C. Waterbury was a chemical entrepreneur, not unlike fellow Des Moines residents Carl Weeks of Salisbury House fame, who invented the concept of foundation makeup for women, and F.W. Fitch, who was called the "Shampoo King" and whose former downtown headquarters is now an artists' colony.
Waterbury, who was born in Illinois in 1866, founded Waterbury Chemical Co., a major supplier of cod liver oil with branch offices in New York, Toronto, London, Hong Kong and Sydney. In addition to owning the chemical company, Waterbury was vice president of the Des Moines College of Pharmacy, which eventually merged with Drake University to become the Drake College of Pharmacy and Health Sciences.
The Waterbury family home, built in 1900, today still sits at the corner of Country Club Boulevard and Waterbury Road in the heart of a neighborhood that was, and still is, one of the most prestigious residential developments in Des Moines.
Thomas Beck Road
A mile-long street that runs parallel to the industrial area south of Gray's Lake is named for an English coal miner who arrived in Iowa in 1867 and eventually became one of the state's most successful miners.
Thomas Beck was born in County Durham, England, in 1842, the eighth of nine children. Although his father died after falling 216 feet down a mineshaft, Beck still entered the mines at age 8. An 1890 biography records that Beck "step by step steadily rose until he had mastered the business in all its details."
Beck arrived in Des Moines in 1868, and with a brother, he "sunk a shaft, called the Eclipse Mine, whence the coal was hauled with horses," according to Beck's biography in "A Portrait and Biographical Album of Polk County, Iowa," published in 1890. The brothers sold that mine to Barlow Granger, who had founded the area's first newspaper in 1849 and was by the 1860s a land speculator. The Beck brothers went on to create mines throughout the metro area, from north of what is now Merle Hay Mall to south of the Capitol.
Photos provided by the Des Moines Public Library (DMPL). Unless otherwise noted, sources cited in this article can be found at the DMPL. "The Streets of Des Moines," created by George Mills for the Des Moines Public Library, May 24, 1991. Portrait and Biographical Album of Polk County, Iowa, 1890. "Historic Des Moines," a collection of the Cowles Library, Drake University. "History and Character of Drake University" published by Drake University. "Des Moines parks honors many heroes," article by Drew R. Tillotson in The Des Moines Register, Oct. 2, 2011. "Famous Iowans, Merle Hay," article by Tom Longden on The Des Moines Register's website. "Army Highway Is Named for Merle Hay," article in the Des Moines Tribune, Nov. 19, 1917. The Biographical Dictionary of Iowa, an online publication of the University of Iowa. "MacVicar Freeway," article on the Iowa Department of Transportation's website.