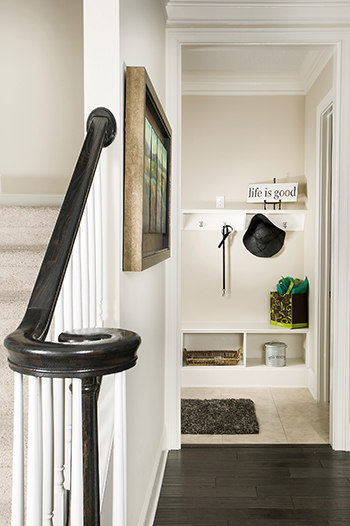 By Kellye Crocker
Your home's entryway offers a bright, spacious welcome to guests, but what about the back entrance you use daily? If it's dim, cramped and depressing–we're looking at you, endless heaps of laundry–you're not alone. Improving the garage-to-house transition is a big trend in new home design, says Steve Moore, a senior partner with West Des Moines-based BSB Design, which has eight offices across the country and is one of the nation's top architecture firms.
The new "family foyer" isn't your grandma's old mud room, although it is practical. Abundant storage corrals everything from keys to those giant toilet paper bundles. Pantries provide a convenient way station from car to kitchen, and laundry rooms tuck out of sight. Such streamlined organization offers its own zenlike reward, but these foyers also are cheery and stylish. "Nobody wants to come in and be reminded they have a bunch of laundry to do," Moore says. "This says, 'Welcome home.' "
Such innovative features, often unavailable in older homes, help the 48-year-old BSB court current homeowners in an economy where first-time buyers typically no longer qualify for new-construction mortgages, Moore says. "We're trying to make the house friendlier to everyday living," he says.