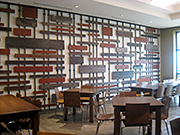 Today, if you drive by 2932 Ingersoll Ave., you might be able recognize the building as the former Blockbuster video rental store. The boxy outline remains, in spite of the promise of outdoor dining patio taking shape.
But step inside, and any memory of the blunt, industrially lit store will be erased. I literally gasped at the dash and daring of the new venue—the most ambitious overhaul the city has seen a restaurant pull off since Centro opened more than 10 years ago.
Jason Simon, chef-owner of East Village's Alba restaurant, is set to open the 170-seat Eatery A around mid-April. Simon designed the space himself. While contemporary, the venue avoids the stark, hard-edged feel often found in today's new restaurants. Reclaimed wood shines throughout, colored up with thrilling reds and bold blues. Though a place this size could risk feeling cavern-esque, enticing focal points energize the room—banquette seating, swishy half-moon booths, an open kitchen, a wood-fired pizza oven.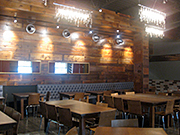 The latter speaks to the focus of the menu, which Simon describes as "Mediterranean with a focus on the wood oven." Specialty pizzas ("a cross between Neapolitan and New York-style," Simon says) will share the menu with signature pasta dishes and grilled meats and seafood.
And check out the prices: "With nice and easy price points under $15 on everything, we're hoping to be more friendly for everyone," Simon says.
Given the many unknowns in the construction world, Simon wisely won't commit to a firm opening date. But keep your eye on this upcoming hot spot.