By Wini Moranville
It's always great to see Central Iowa restaurateurs support local growers and producers, and a sterling example of that is the way in which our chefs bring La Quercia prosciutto—made in Norwalk by Des Moines residents Herb and Kathy Eckhouse—to their tables with great pride.
Michael Bailey, executive chef of Embassy Club West,says, "We have a La Quercia cart that we slice from tableside. … It is not only a great local product but a worldwide product in quality that I've been very proud to serve on my menus for years."
You can find La Quercia in charcuterie plates at Blue Tomato, Centro, The Cheese Shop of Des Moines, Django, Le Jardin, Splash Seafood Bar & Grill and Trostel's Dish, to name a few. Also find it used in one-of-a-kind recipes at these venues:
• Alba: Enjoy this creative kitchen's take on chicken saltimbocca, with truffle spring pea risotto, La Quercia prosciutto and a pea tendrils salad. (524 E. Sixth St.; 244-0261)
• Louie's Wine Dive: Hungry? Dig into the four-pork gnocchi, with La Quercia prosciutto, pork shoulder, ground pork and Italian sausage in a red wine and cream sauce. Or try the portobello prosciutto and truffle mac, with a Taleggio cream sauce. (4040 University Ave.; 777-3416)
• Centro: La Quercia prosciutto stars with mushrooms and Marsala sauce in this venue's version of chicken saltimbocca. Tip: One order will generously feed two diners, and the kitchen is gracious about splitting entrées. (1003 Locust St.; 248-1780)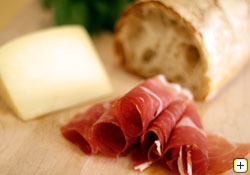 La Quercia prosciutto.  Photo by Amy Finkel.