Olson-Larsen Galleries is offering a series of gallery talks as part of its 35th anniversary celebration. On July 26 at 1 p.m., Gary Bowling, Barbara Fedeler and Larry Welo, three of the four artists featured in the gallery's annual landscape show, will discuss their common interest in landscape art and their varying approaches to it.
Bowling, one of the most prolific and popular landscape artists in the Midwest, works both outdoors and in the studio to create his richly textured oil paintings on paper and canvas. Fedeler, an art professor at Wartburg College in Waverly, uses willow charcoal to draw panoramic vistas of the terrain in northeast Iowa. Welo, a graduate of Luther College in Decorah, is a plein-air painter and printmaker inspired by the local landscape.
Light refreshments and wine will be served at the talk. Olson-Larsen is located at 203 Fifth St. in West Des Moines; click here for more information. –V.I.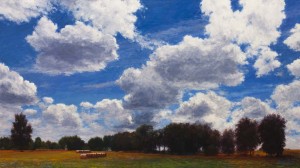 Gary Bowling, "Clouds Passing the Hay Meadow," oil on canvas.