By Vicki Ingham
Local horticulturist Cathy Wilkinson Barash has been extolling the culinary virtues of flowers for more than 20 years. On July 23, she's teaming up with Lisa LaValle, local chef and owner of Trellis, the café at the Greater Des Moines Botanical Garden, to present the first of three Food Is Pretty lunch-and-learn events at the Botanical Garden.
Titled "Edible Flowers: From Garden to Palate" after Barash's award-winning book of the same name, the event includes a lunch inspired by summer garden edibles and advice from Barash about flowering plants, the flavors they lend to recipes and how to grow and use them in a variety of dishes. Time: 11:45 a.m.-12:45 p.m. Cost: Botanical Garden members $25, nonmembers $30. Register by July 21.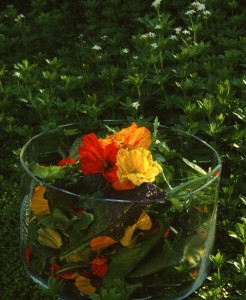 Nasturtiums add bright color and peppery flavor to salads.