By Vicki Ingham
I've been looking for a summer-weight scarf and found a treasure trove at Accenti in the East Village: feather-light viscose shawls in yummy tangerine and watermelon hues, whisper-thin polyester prints, bright crinkly silks and synthetic pashmina in gorgeous solids and prints.
But the coolest of all is the scarf/shrug. Made of a viscose-cotton-spandex blend, it's a doubled length of fabric secured at each end with four buttons, forming short sleeves. Slip your arms through the sleeves and open the scarf to full width for a light over-the-shoulders shrug. To wear it as a scarf, just wrap the doubled fabric once or twice around your neck and thread one end between the buttons at the other end to hold it in place. It's available in black, black and white, and black and stone for $75.
Find Accenti at 400 E. Locust St.; 284-8877.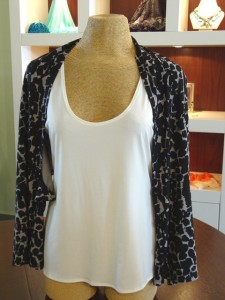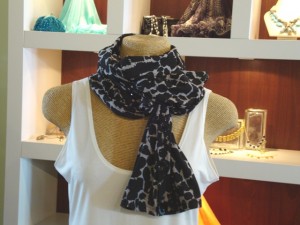 With buttons at each end of the doubled fabric, this scarf doubles as a shrug.