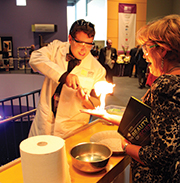 It'll be all fun at Science Center of Iowa's 16th Annual Fundraising Event and Auction Aug. 22. You might even have your hand set on fire by someone in a white lab coat (see the photo to the right if you don't believe us). 

The event is expected to draw more than 600 people, who can sample Templeton Rye, Iowa craft beers and a specialty cocktail named "Teslatini" while listening to live music by DesNamix, Faculty Lounge and Ira Grance and the Bible Belt Prophets. You also can enjoy hors d'oeuvres and desserts as well as be amazed by science demonstrations that will take place throughout the evening.

Live auction highlights include a 10-day safari to South Africa for two, a Disney World vacation for four and a two-day driving experience at BMW M-School in Greenville, S.C.

The event starts at 6:30 p.m. Tickets cost $125 for adults and $75 for young professionals under age 35 and can be purchased here.