By Wini Moranville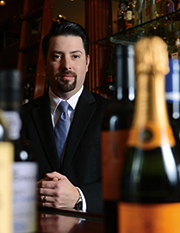 So, where does someone who has written more than 750 restaurant reviews (that would be me) go to celebrate a wedding anniversary? This year, we landed at 801 Chophouse; as usual, we were thrilled with the glorious beef, the opulent surroundings and the expert service.
While the beef at 801 will always be the star, in recent years, I've begun to greatly admire the sides, including the lobster mashed potatoes, sparklingly fresh sautéed spinach, bright Brussels sprouts with red onion marmalade, and the creamed corn.
That's why I was delighted to stumble on (and take advantage of) a new option: You can now request half-orders of most vegetables and potatoes. That's a boon to couples–rather than choosing one or two immense side dishes, you can opt for half-portions of side dishes perfectly sized (and reasonably priced) for two.
"We have so many side dishes, and they are all so fabulous, we want everyone to have an opportunity to try as many as they can," General Manager Damon Murphy says.
801 Chophouse is at 801 Grand Ave.; 288-6000.