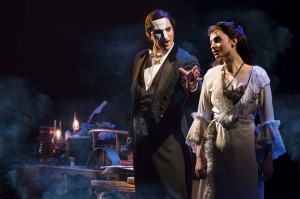 By Belle Du Chene
"The Phantom of the Opera"–Andrew Lloyd Weber's lavish spectacle about obsession, love and murder in a 19th-century French opera house–is coming to the Des Moines Civic Center Sept. 10-21. The decked-out show, part of a new North American tour, features many special effects, including the famous one-ton chandelier.How popular is the show? The numbers tell the story:
$890 million: How much "The Phantom of the Opera" has grossed since its 1988 Broadway debut.
70-plus: Theater awards the show has won, including seven 1988 Tony Awards (including best musical) and three Olivier Awards in London's West End.
40 million-plus: How many copies of the original cast recording have been sold, making it the best-selling cast recording of all time.
20: Trucks used to move the production from city to city.
120-plus: Wigs that travel with the show. All but five are made of human hair.
6,000: Beads on the chandelier.
Find details about show dates and times for the upcoming Des Moines production 
here
.