By Belle Du Chene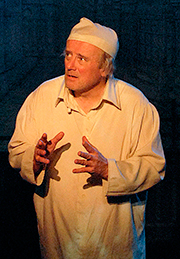 For the 2014-15 season, Repertory Theater of Iowa (RTI) is moving into its new home at the Des Moines Social Club's Kum & Go Theater and staging four plays. Tickets are now on sale hereand include flex passes that allow you to use purchased tickets anytime you want. This year's lineup includes "Who's Afraid of Virginia Woolf?" Sept. 12-18; "A Christmas Carol," Dec. 12-21; "The Diary of Anne Frank," April 10-26, 2015; and "Much Ado About Nothing," June 11-14 at Salisbury House & Gardens. Learn more at rtiowa.com. 

We sat down with Richard Maynard, RTI's executive director, for a little Q&A. 

Of all the classic characters you've encountered throughout your career, which one do you relate to the most and why?
The classic character I've enjoyed playing the most is Big Daddy in Tennessee Williams' "Cat on a Hot Tin Roof."  Not that I can relate to him. He's a misogynist. In real life, I'd get as far away as possible from this guy. But he's also a very rich, complex man.

What is your favorite memory from your time spent at the Repertory Theater? 
I can't think of one special moment. Seeing this company of players grow over the past six years into such a solid acting company has been a real joy. 

What aspect of the upcoming season excites you the most and why?
Probably our first play, "Who's Afraid of Virginia Woolf?" This is a mountain of a play. I'm very excited to see us climb that mountain. Des Moines will not get another chance to see this drama so fully realized.