By Belle Du Chene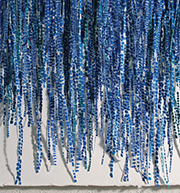 What does it mean to be human and how do we express our humanity and understand our existence? Is it through our individual behaviors, our history, our language? 

"New Work," an exhibit on display at Olson-Larsen Galleries through Oct. 4, features work by artists who explore these questions. Brent Holland, an associate professor in the College of Design at Iowa State University, examines identity through self-portraiture and still life compositions. Inspired by her Greek heritage, Anna Lambrini Moisiadiscreates works on paper that reflect her "constant struggle of feeling courageous and insecure." Gabriel Lueders uses art as a way to deconstruct and challenge social convention. 


For more information about this exhibit and to see some of the artists' works, click
here
. To see a story 
dsm
 published on Brent Holland, click 
here
. Olson-Larsen is located at 203 Fifth St. in West Des Moines.