By Belle Du Chene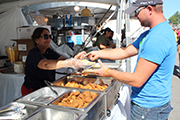 Ever tried Trinidadian "pholourie"? How about Korean "bulgogi"? You'll have your chance Sept. 19-21 at the 10th Annual World Food & Music Festival, which will feature 50 international food vendors in itsnew location on the Walnut Street Bridge. In addition to sampling food from Trinidad and Korea, you can check out cuisine from countries such as Ethiopia, Greece, Russia, Cambodia and more. Each sample costs $1, with the option to upgrade to a full-plate portion for $5 or less.
Chef Lynn Pritchard of Table 128 Bistro & Bar and Chef Charles D'Ablaing fromThe Raphael Hotel in Kansas City are just two of the chefs scheduled for live cooking demonstrations. Live entertainment headliners include The Nadas, Decoy andParranderos Latin Combo. Kids will love Beaverdale Confections' new "Chocolate Adventure," where they can learn about and taste different kinds of chocolate as they make their own chocolate lollipop.
Admission is free. Hours are 11 a.m. to 10 p.m. Sept. 19-20; and 11 a.m. to 5 p.m Sept. 21. See a festival map, menu list and entertainment schedule here.