By Wini Moranville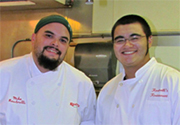 When you hear about a notable restaurant in another city in our state, wouldn't it be nice to know if it were truly worth a drive or an overnight stay? Here's your chance to find out about a few select venues: On Sept. 25, the Iowa Restaurant Association will hold the "Dine Iowa" Grand Tasting Gala, where you can taste creations from Ferrari's Ristorante in Cedar Falls; +39 Restaurant, Market and Cantina in Ames; Rastrelli's Restaurant in Clinton; and Bev's on the River in Sioux City.
Greater Des Moines will be represented as well, with Trostel's Greenbriar, Dos Rios Cantina and Tequila Lounge, AJ's Steakhouse at Prairie Meadows Racetrack and Casino, Fleming's Prime Steakhouse & Wine Bar and Tally's Restaurant, Bar & Catering.
The association invited the selected restaurants to participate. "For our out-of-town picks, we chose restaurants that are worth a drive," said Jessica Dunker, the association's president and CEO. That way, she says, food lovers can "build a culinary tour plan of Iowa."
All restaurants are competing to take home the top honor in a competition in which the chef uses beef and soy in enticing, original ways. The event will feature samples of each of the dishes as well as wine and beer, live music, and dessert and appetizer salons. Splash Seafood Bar & Grill bartender Rex Schultze, who recently won the Iowa Restaurant Association's Top Mixologist honor, will be on hand to showcase samples of a signature craft cocktail.
The event will be held from 6 to 8 p.m. at Capital Square in downtown Des Moines; tickets cost $50 and are available on the Dine Iowa website or by calling 276-1454.