By Belle Du Chene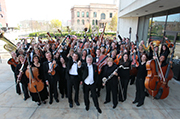 More Central Iowa youths will experience the joy of classical music, thanks to an initiative launched by the Des Moines Symphony. The program makes tickets available to youths to help them gain exposure to the arts. Last year, children and their families who participated in programs at Boys & Girls Clubs of Central Iowa, Camp Fire Heart of Iowa, Children & Families of Iowa and the Oakridge Neighborhood Association used 88 tickets. The program in part contributed to a 161 percent increase in student attendance at regular season concerts.

Here's what Sophia Ahmad, the symphony's director of marketing and public relations, has to say about the initiative:

What do you think is the biggest advantage for young students in gaining exposure to the symphony?
Research shows that music, and more specifically, making music, transforms the brain in "positive and permanent ways." And we also know that musicians who start training before the age of 7 reap the most benefits of brain resilience and nimbleness. 

What is a goal for next year?
We want to make sure that every child in Central Iowa has the opportunity to experience a great live concert, so we are reaching out to as many groups as we can. You never know what will spark a child's imagination, whether it's playing a musical instrument or experiencing a live orchestra for the first time. 

What performance in this year's lineup will kids like the most?
This year is our fifth partnership with the Chicago Symphony in a special multimedia presentation called "Beyond the Score: Beethoven's Fifth Symphony" (Nov. 15-16). During the first half, the audience learns about the piece through actors, a giant screen above the stage and the full orchestra playing excerpts of the work, including its famous four-note opening. Then, the orchestra performs the complete symphony in the second half. 


The Des Moines Symphony's 77th season begins with 
Des Moines Symphony Week 
(Sept. 22-28), a week of events leading up to the Sept. 27 and 28 opener featuring Stravinsky's "Firebird." For a complete concert schedule and to purchase tickets, click 
here
.