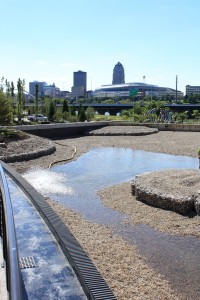 By Belle Du Chene
Just in time for the unveiling of the third edition of ia, our statewide annual publication, on Oct. 7, the Greater Des Moines Botanical Garden will host a series of ceremonial grand opening events Oct. 2-4.

Following nearly 18 months of construction on seven acres of land to develop a variety of outdoor gardens, the Botanical Garden will open its doors to showcase the completion of the first phase of the $18.2 million project. The upgrades include a belvedere overlooking the Des Moines River, plus the renovation of parts of the interior. Visitors also will get a sneak peek at the work scheduled for next year.  

For more information on tours of the new gardens and conservatory exhibits (free on Oct. 3) and the symposium focused on leading plant explorers from around the country (Oct. 4), click here. For details on the grand opening, contact Kelly Norris by email or by phone at 323-6299. 

For ia's unveiling on Oct. 7 (5-7 p.m.), there is no need to RSVP. Join us to celebrate the new issue, which we guarantee will surprise and engage you with stories on arts and culture, home and garden, architecture, education and more. 

The Botanical Garden is at 909 Robert D. Ray Drive.