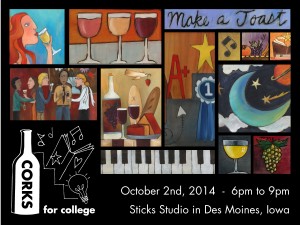 By Belle DuChene
When Sarah Reichardt approached Christopher Diebel and Rachel Eubank with an idea for an event to benefit the Des Moines "I Have a Dream" Foundation, the two eagerly said yes. "We are very excited about how things are coming along," says Diebel. Because of corporate sponsorships, "we are able to keep the ticket price low while providing maximum value to our guests."
The new event, called Corks for College, will be Oct. 2 at Sticks Studio (3631 S.W. 61st St.). Guests can expect hors d'oeuvres by Mary Miller-Smith, beer and wine, and music from DJ Mickey Davis. Items for sale at a silent auction include seating for six at an Iowa Culinary Institute Chef's Dinner, four tickets to the Blue Ribbon Bacon Festival and two tickets to the 2015 Winefest Grand Tasting, paired with a case of wine curated by the committee members. Guests also can purchase "leaves" to place on a "giving tree" to subsidize the costs of school supplies, backpacks and tickets to a college information breakfast.
The event will raise funds to serve approximately 300 free or reduced lunches and establish college savings accounts for children at Findley Elementary School.
To learn more about the foundation, click here. Tickets are $60 and can be purchased here. If you have questions about the event, contact Sarah Reichardt by email or by phone at 972-979-7648.