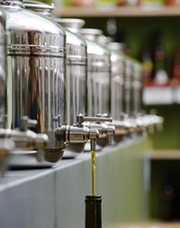 By Wini Moranville
Allspice Culinarium in the East Village is throwing a gathering Oct. 3 to celebrate four years in business, and you're invited. According to owner Rory Brown, the event is a "customer appreciation party," and it sounds like the team at Allspice appreciates their customers very much indeed.
Wine, beer, and soft drinks will be served, along with the creations of local pros who showcase Allspice products in their recipes. Taste pizza from Gusto Pizza Co., focaccia made by Alessandra Meschini from Cooking with Alessandra, and ancho-chocolate cookies from Crème Cupcake. The Allspice staff will also debut their spiced rosemary chocolate chip cookie; you can sample a few, and if you fall in love, purchase some to take home.
The good times roll from 4 to 8 p.m. Allspice is at 400 E Locust St.; 868-0808.
PS: If you've ever wondered what to do with all the wonderful specialty olive oils and vinegars from Allspice, check out my article, Lovin' Spoonfuls in the current issue of dsm.