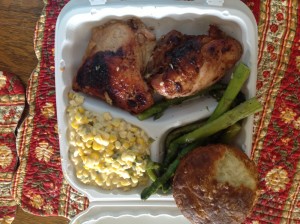 By Wini Moranville
Not long ago, I happened to be at Gateway Market on a Monday night and noticed a few more people than usual crowded around the hot-food case. Naturally, I ventured over to see the draw.
Turns out, Cheap Meal Monday was in full swing. That's when you can score one entrée and two sides, plus a giant buttermilk biscuit, for $6.99. Gateway is in the family of restaurants overseen by executive chef George Formaro, and in true Formaro fashion, portions are exceedingly generous. One meal of citrus soy roasted chicken, asparagus and creamed corn handily made two of us extremely happy.
According to Gateway's chef, Bill Overdyk, other popular choices include meatloaf and fried chicken. "We buttermilk brine this chicken for 12 hours, dredge it in perfectly seasoned flour, and then fry it up the right way–in lard," Overdyk says.
If that sounds off-kilter with your aim to eat well, remember that cold entrée and salad items are offered too. "This really opens up the number of healthier options, like quinoa salad with sweet corn, sumac and a tahini dressing; raw kale salad with Caesar dressing, sunflower seeds and capers; and citrus asparagus salad with red cabbage, carrot and a light citrus vinaigrette," Overdyk says.
Also remember that Gateway's wine pro, Abbe Hendricks, sources plenty of good $10 and under wines to complete the bargain–and make Mondays something to look forward to.
Gateway Market is at 2002 Woodland Ave.; 243-1754.