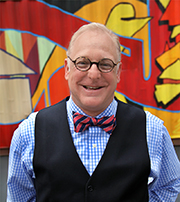 By Belle Du Chene
The 2014-15 season has brought changes to StageWest Theater Company, most notably the promotion of Todd Buchacker from associate artistic director to producing artistic director and the theater's move into its new home at the Des Moines Social Club's Kum & Go Theater.
As the company gets ready to kick off its season with "Carrie the Musical" Oct. 10, we sat down with Buchacker for a fun and candid Q&A.
What's the biggest bullet you've dodged during a production at StageWest?Our biggest near disaster was having someone almost fall while playing an angel in Tony Kushner's "Angels in America." We had hoisted (the actress) from the ceiling in a harness many times, but that night I could tell she wasn't hooked into it right so I yelled, "Stop," and we were able to catch it in time.
Name a song from a production that you can't get out of your head. The one song that I can't get out of my head is from our (upcoming) show, "Carrie." It just repeats (Buchacker starts singing) and repeats. It's a total earworm song!
What's the one thing you would be nervous or embarrassed to do onstage as an actor?Well, I have been nude onstage before, so I can't say that. But if you truly want to see me curl up into a small ball of fear, just have someone say, "Hey, let's do some improv," and I will run, screaming, from the room.
"Carrie the Musical" runs through Oct. 26. Other shows in this year's lineup are "Neighborhood 3: Requisition of Doom" Nov. 7-15; "Cock" Jan. 16-25; "My Name is Asher Lev" March 20-29; and "Vanya and Sonia and Masha and Spike" May 8-17. StageWest is also partnering with Des Moines Metro Opera for a Dec. 5 production at The Temple for Performing Arts tied to World AIDS Day. StageWest will present "The Baltimore Waltz" for the first half of the show, then DMMO will perform "Three Decembers," a one-act opera, for the second half.
For more information about the season and to buy tickets, click here.