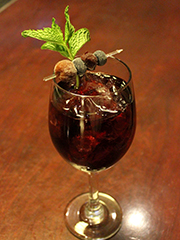 Pumpkins and Halloween costumes are popping up fast in area stores, which can only mean one thing: Fall is here. To celebrate, Django's general manager, Michael Crownover, shares his recipe for a great seasonal sangria. Delicious and fruity with a hint of spice, this cocktail is perfect for the changing season. In a large pitcher, combine the following:
1 bottle of merlot
3 cups cherry/pomegranate juice
1 cup fresh cherries
1 cup fresh blueberries
2/3 cup Captain Morgan spiced rum
Pour over ice in a wine glass and garnish with a mint leaf and skewer of frozen berries.