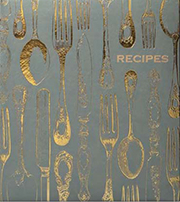 By Wini Moranville
Hey, cooks! It's not too early to start thinking about holiday gift ideas–especially if there's some assembly required on your part.
Filled with your favorite recipes, a recipe keeper from Accents and Interiors would make a meaningful gift for anyone on your list who loves to cook (or loves your cooking). The beautiful three-ring binders are filled with recipe cards, so you can hand-write a few of your favorites, along with full-size pages that allow you to paste in photographs or photocopies. There's also an accordion-style folder to catch extra bits of your cooking tips and wisdom.
The books are covered in stain-resistant faux leather, ensuring that this keepsake can be cherished for years to come.
Accents and Interiors is at 2701 86th St., Urbandale; 276-7201.