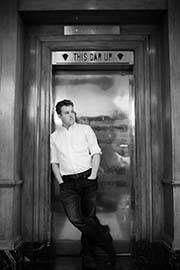 By Belle Du Chene
Jazz vocalist Max Wellman will present five new productions throughout the 2014-2015 season at Drake University's Turner Jazz Center, including his annual "Home for the Holidays" concert. The shows will highlight legendary artists and memorable melodies from the Great American Songbook. As a special bonus, Wellman's new big band album, "Just in Time," will be released in February. Show dates are:
Nov. 1 at 8 p.m.: "Night and Day: The Music of Cole Porter"

Dec. 19-21 at various times: "Home for the Holidays"

Jan. 13 at 8 p.m.: The music of New Orleans

Feb. 13 and Feb. 14 at 8 p.m.: "Just in Time" album release

April 11 at 8 p.m.: "Tomorrow is Ours" with Des Moines vocalist Tina Haase Findlay
We sat down with Wellman for a little Q&A. 
What has been your most unforgettable performance?
I would have to pick the first Hoyt Sherman Place concert four years ago. That show was quite an endeavor on my part, as it was my first experience as a producer on that level. It was nerve-racking, but we sold out and the atmosphere was magical right from the start of the evening. I will forever remember that as an almost out-of-body experience.  
What has surprised you the most about the music business?
The constant effort to keep yourself busy, work-wise, has surprised me. I knew it would be a hustle, but I don't think there's any way to really prepare for that until you're right in the middle of it. I've been extremely lucky thus far in my career, but it's still a weekly effort to keep things moving forward. 
What are you most looking forward to, especially for the new series?
I'm truly excited for people to hear my new album, "Just In Time." We had stellar musicians in the studio for each of the tracks, from my big band to Gary Walters, a world-class jazz pianist from Indianapolis. I also have a couple of duets with Tina Haase Findlay.  

What is one thing no one knows about you?  
A lot of people are surprised to find out that I am an avid baseball fan. If there's one thing I spend an exorbitant amount of time on outside of music, it's the Chicago Cubs.
Tickets for the series will go on sale at Oct. 15 at 9 a.m. Find out more and purchase tickets at www.maxwellmanmusic.com or by calling 505-5815.  
Wellman also appeared on the pages of dsm magazine in a recent article on jazz in Des Moines. Read it here.