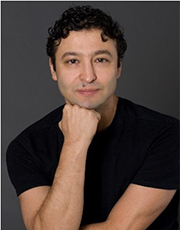 By Belle Du Chene
Ballet Des Moines' season will open Oct. 24-26 with three performances of "3 + One: A Triple Bill" at Hoyt Sherman Place. Tickets are on sale now at the Hoyt Sherman Place box office (1501 Woodland Ave.) or online here. Tickets are $42.50 per person, $27.50 for students.
The ballet's artistic director, Serkan Usta, created the first portion of the performance, which was inspired by Mozart's "Sonata for Piano and Violin." We sat down with him for a little Q&A about his career at Ballet Des Moines.
What has been the biggest accomplishment for the ballet since it launched?
The board of directors deciding to start a company where we have eight professional dancers, on a 26-week contract, doing three productions every season was a big accomplishment.
What is the ballet's biggest goal?
We'd love to eventually hire another five to seven dancers and increase the number of productions we do each season.
What is one thing the general public doesn't know about Ballet Des Moines?
That it's a professional company, not a school with a recital. We are a ballet company like you would see in Chicago or New York, with high-caliber dancers producing quality work.
What has been your favorite moment so far?
There isn't one, necessarily. It's seeing how people get excited about the ballet, educating young audiences and building a better art form every day.
Showtimes are 8 p.m. Oct. 24 and 25 and 2 p.m. Oct. 26. Other shows for the 2014-15 season include "The Nutcracker" (Dec. 11-14 at Hoyt Sherman Place) and "The Wizard of Oz" (April 4 at the Des Moines Civic Center).