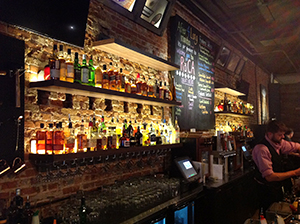 By Wini Moranville
It's as if Jason Kapela looked Jason Simon in the eye and said, "Game on."
Which is to say, if you love the kind of chef-driven, casual-yet-ambitious food that you find at Jason Simon's Eatery A, which opened on Ingersoll last spring, you'll want to try RōCA (Restaurant on Court Avenue). The new venue opened for dinner Oct. 22.
RōCA has taken over the former Sbrocco location, and the colorful bar, mingling-friendly high-top tables, and natural light from the open windows in the front have livened up this place immensely.
The menu, overseen by managing partner Jason Kapela (formerly the chef and a founding partner of Louie's Wine Dive), offers a mix of shared plates, big plates, flatbreads, spreads and sliders. Craft cocktails are also a major focus, and while it seems that craft cocktails are the focus everywhere these days, Kapela and team not only offer handcrafted syrups, juices and mixers, but also are upping the ante with hand-cut ice-cubes carved from specialty ice ordered from Chicago (check out the saws on display behind the bar).
Highlights on a Sunday night preview visit included escargot served in little Yukon-gold potato cups, delicate tempura green beans, and an amazing beef stroganoff, made with short ribs, no less. Cocktails were equally impressive; if you've never had olive oil in a cocktail, try the "Good Libations" drink. It's an unbelievably rich and smooth gin- and Cointreau-based sip.
RōCA is at 208 Court Ave.; 282-3663. Check out the restaurant's Facebook page or visit their website to learn more: http://www.rocadsm.com