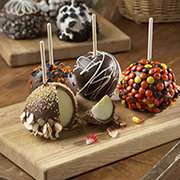 By Wini Moranville
Whether you're hosting a Halloween party or you know some trick-or-treaters who deserve something out of the ordinary, you'll want to check out these luscious caramel apples from Chocolate Storybook.  
Each starts with a crisp, tart Granny Smith apple, which gets covered with caramel, chocolate and a variety of nuts, candies or other treats. Throughout October, the store stocks three varieties: traditional (with caramel, milk chocolate and white-chocolate drizzle), pecan and toffee. A snowball apple–with white chocolate and coconut–will be available until Christmas.

However, if you're planning a gathering, you can special-order from among nearly 20 other options. Try M&Ms and cookies-and-cream for the kids, or German chocolate or sea salt for the adults. There's even a bacon option for the hipsters.  
The apples cost $10.95 to $12.95 each. For a lovely (and simple!) dessert in the coming weeks, serve them sliced with a glass of tawny port.
Chocolate Storybrook is at 1000 Grand Ave., West Des Moines; 226-9893. For special orders, email Steve@ChocolateStory.com.