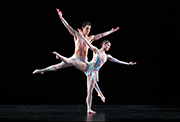 By Belle Du Chene
The Paul Taylor Dance Company will open its 2014 Diamond Anniversary Tour and debut a new work at the Des Moines Civic Center Nov. 8 at 7:30 p.m. The company will perform "Arden Court," "Company B" and the world premiere of Taylor's 141st work, "Sea Lark." Under the direction of the world-renowned choreographer, the 16-member company has performed in more than 64 countries. 
We sat down for a Q&A with George Smallwood, a dancer with the company who holds a bachelor's degree in dance performance.  
What's the most difficult aspect of "Sea Lark"?
Paul (Taylor) works both against the music and with it in his choreography. To physicalize the wonderment of the music requires a lot of jumping, a lot of stamina.
You started working for Paul Taylor in 2011. What's the biggest thing you've learned?
Every season, Paul watches everything from the repertory, and he's always eager to create. You learn how important it is to stay vibrant and excited while creating something new.
Can you give us an inside peek into how the company prepares for a performance?
We prep for hours upon hours to make sure everything is absolutely perfect. But what people don't always know is that we understudy for each other. We all learn everyone else's part, in case one of us has to jump in. We can go from having hours of prep time to being thrown into the mix in just a few seconds.

Tickets are $15 to $55 and can be purchased here or by calling 800-745-3000.