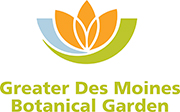 By Belle Du Chene
Friends of the Greater Des Moines Botanical Garden
will present
Celebrate Champagne and Chocolate Nov. 21
from 6 to 8 p.m. at the Greater Des Moines Botanical Garden, 909 Robert D. Ray Drive.
Hundreds of holiday flowers, including amaryllis, paperwhites and hellebores, will set the scene for the second annual Holiday Exhibition. Guests can expect champagne, wine, beer and a signature cocktail, as well as a chocolate from Chocolaterie Stam and hors d'oeuvres by Trellis restaurant. The Garden Shop will be open for holiday gift shopping.
Tickets are $75 and can be purchased here or by calling 323-6290. Complimentary valet parking is included.
Take a minute to view this terrific video by Jacob Moyer and hear how key leaders took the Greater Des Moines Botanical Garden from conception to creation and what the expanded and renovated facility means for our city.