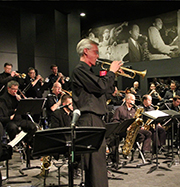 By Belle Du Chene
If you're a golfer, you're no doubt suffering withdrawal from putting on the greens, but that doesn't mean you can't have one last hurrah–even if it is in an auditorium and not on the course.
A special composition that pays tribute to Waveland Golf Course, called "Waveland Suites," will be performed by The Turner Jazz Center Orchestra Nov. 20 at 7:30 p.m. at the Turner Jazz Center at Drake University.
Andy Classen, a professor of trumpet and jazz studies at Drake, composed the piece. The concert will feature a number of his original works.
Tickets are $15 for all ages and can be bought here. For more information about the orchestra, click here. You can also learn more about Classen here.