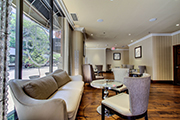 By Wini Moranville
One of the first things I noticed in my recent preview of RōCA was the soft seating–that is, comfy divans and cushioned low chairs–in the front lounge area. It's just so … sexy.
Eschewing the hard-edged feel of high-top bar tables, these soft, low settees invite everyone to get a little more relaxed, comfortable–and in some cases, a little closer. It's also a big-city trend; I noticed soft seating a couple of years ago in Chicago, most notably at The Girl and the Goat, where one huge corner couch angled against a giant low coffee table invited everyone to become better acquainted.
In Des Moines, I first admired soft seating at Dos Rios Cantina and Tequila Lounge; the couches make a lovely place to sip those craft margaritas. When the Coda Lounge at the Renaissance Des Moines Savery Hotel underwent a swank remodel a few years back, soft seating became the focus. It's a lovely place to grab a drink before or after a Des Moines Civic Center show. RōCA completes a trio of local restaurants tapping into a trend I'd enjoy seeing more of in town.
Coda Lounge, Renaissance Des Moine Savery Hotel, 401 Locust St.; 244-2151. Dos Rios Cantina and Tequila Lounge, 316 Court Ave.; 282-2995. RōCA: 208 Court Ave.; 282-3663.