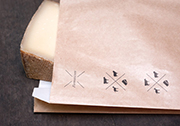 By Wini Moranville
During this season of entertaining, chances are you'll invest good money in some great cheeses. Keep them in peak condition with Formaticum cheese bags.
Made in France (a country that knows a thing or two about cheese), the porous bags allow the cheese to breathe, yet keep it from drying out. They also make post-party cleanup quick: Simply place the leftover cheese in the bag and fold over the top. No time-consuming origami-style wrapping needed.
Find them at Accents + Interiors (2701 86th St., Urbandale), where buyer Amanda Duncan says, "They've been flying off the shelf–people love their cheese!" They cost $8.25 for a package of 15; however, in case you do prefer to wrap your cheeses origami style, the shop also sells the Formaticum cheese paper ($8.25 for 15 11-by-14.5-inch sheets).