By Belle Du Chene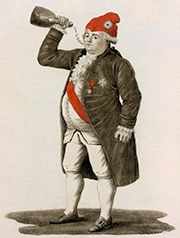 Now that the temps have dropped and snow is on the ground, it's time to dress for winter (like it or not). Here are a few of my seasonal pet peeves:
Pet peeve #1: Cramming wide-leg jeans or pants into boots or booties.
Nobody wants to look like Louis XVI with his knickers blooming out the top of his boots. If you want to tuck your jeans or a pant into boots, make sure they are straight-leg, slim-fiting pants, preferably with an ample percentage of spandex to allow stretch. If the pant legs still wiggle loose and bunch at the top, try tucking them into snug knee socks or consider purchasing adjustable stirrups. And remember: Leggings are never a suitable replacement for pants any time of the year.
Pet peeve #2: Sweater pilling.                  
Sweaters look pristine until we wear them for the first or second time, when abrasion causes the fibers to loosen and ball up. To remove them, a razor or pumice stone works just as well as a battery-operated pill remover. It's an easy, mindless task to do while watching TV. Washing the sweaters inside out will keep help pilling to a minimum.
Pet peeve #3: Keeping the basting stitch on the back of winter coats.
As you purchase a new winter coat this year, take a second to see if there's an X-shaped stitch holding together the vents (or slits) of your coat in the back. They are only meant to hold the flaps in place during shipping and should be clipped before the coat is worn. This also applies to loosely tacked brand labels often found on the sleeves.