By Belle Du Chene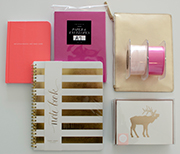 A stationery and graphic design shop opened yesterday in the East Village as part of the new retail space at 350 E. Locust St. Pink Print Co. offers fine stationery, custom-designed invitations, greeting cards and gifts. Accessories for the home also will be offered through a collaboration with Reynal Interiors, owned by interior designer Amanda Reynal of Des Moines.
The store is the newest endeavor of Stacey Gibbs and Sara Gaskell, a duo with a shared passion for design who previously owned Pink Fine Stationery in The Shops at Roosevelt. They changed the business name to reflect the design work they do for small businesses and customers. "About 80 percent of what we produce is designed in-house, which is why we chose to rebrand," Gaskell says. "We still think the retail aspect of what we do is really important, but we do design work just as well. This is kind of a second generation of our business."
Pink Print Co.'s hours are 10 a.m.-5 p.m. Monday through Saturday. The shop is located in suite 103. Learn more at pinkprintco.com.