By Abbe Hendricks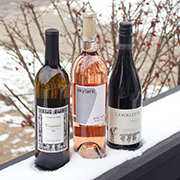 The million-dollar question this week is, "What should I drink with my Thanksgiving meal?" To honor the roots of this American holiday tradition, I promised myself to keep my picks classically simple:
An aromatic white is always a perfect match for Thanksgiving; it accentuates the savory, herbal flavors of stuffing and side dishes. Look for riesling, gewurztraminer or viognier. My personal favorite: Emanuel Tres 2013 viognier from Santa Barbara County, Calif.
Rosé isn't just for the summer; its versatility mandates a place on every table this Thanksgiving. Whether you serve turkey, ham or both, a bottle of dry rosé will be a crowd favorite. The Skylark 2013 Pink Belly Rosé from Mendocino County, Calif., is perfect.
Picking a red that appeals to everyone can be difficult, but the simplicity of pinot noir is up for the challenge. Light and fruit-driven, pinot noir's acidity will stand up to the rich seasonings of a turkey dinner. Celebrate this year with the La Follette 2012 pinot noir from California's north coast.
Whether you toast with these bottles or find your own favorite, remember that the best wines are for sharing. After all, isn't that what Thanksgiving is all about?