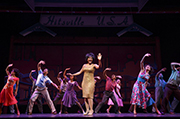 Written by Christine Riccelli
During Tuesday's opening performance of "Motown The Musical" at the Des Moines Civic Center, the audience clearly was into it. And with good reason: The musical, which tells the story of Motown Record Corp.'s first 25 years based on founder Berry Gordy's recollections, is stuffed with 60 (yes, 60!) infectious tunes originally recorded by such legends as Diana Ross, the Jackson Five, Marvin Gaye, the Temptations, Smokey Robinson and so many more.
A gifted cast of energetic singers and dancers—outfitted in eye-catching costumes—spun out the Detroit classics, whether the catchy "My Girl" or the antiwar protest anthem "War." Standouts included the young Michael Jackson (Reed L. Shannon), who bounded on stage and effortlessly channeled the preternatural talent of the Jackson Five star.  In the challenging—and undoubtedly intimidating—role of Diana Ross, Allison Semmes admirably captured the diva's look, voice and movements.
But cramming so many songs into the production meant presenting truncated versions; I'd just start to sink into a tune I grew up with and still love, and it was on to the next one, leaving me feeling somewhat whiplashed. But the bigger issue is that the story the music is supposedly telling lacks the depth, edge and authenticity that made "Jersey Boys," another jukebox show, such a rewarding and memorable theater experience for me.
Perhaps that's because Gordy wrote the book of the musical; the entire show felt like a rose-colored tribute from Gordy to Gordy. Without a doubt, Gordy was a game-changer, not only for producing, managing and promoting formidable African-American talent, but for doing so at a time when music was still segregated, when the work of African-Americans was dismissed as "race music."  Gordy tackled immensely daunting obstacles–ones that many younger people today can barely imagine–to integrate music. Against a racially, socially and politically charged backdrop, he created a legacy through Motown that is a major part of the country's cultural history.
Yet this production skitters across that history, presenting a seemingly revisionist story that lacks a strong point of view, lacks coherence and lacks drama. Dialogue is often wooden and cliché-ridden; some characters come off as cartoonish; and some of the scenes border on cringe-worthy. During one scene Tuesday, the house lights came up and Diana Ross, singing "Reach Out and Touch," had everyone in the audience hold hands, raise them in the air and sing along. I was glad that (1) I was sitting next to my husband, whose hand I actually enjoy holding; and (2) no one was sitting in the seat beside me. I'm all for loving one's neighbor…just not in the Civic Center.
The result of the perky production is that it's nearly impossible to care about Gordy—or any of the other characters. Then again, maybe I just expected too much from the show; clearly, it's all about the chart-topping songs that today remain just as fresh and just as fabulous as they were decades ago.
"Motown The Musical" plays the Des Moines Civic Center through Dec. 7.