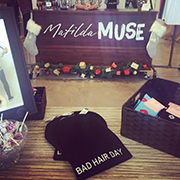 By Belle Du Chene
Some of us at dsm have been known to shop. A lot. So we like to stay in the know about the retail happenings in Greater Des Moines. Earlier this fall, we covered the opening of Nordstrom Rack in West Des Moines as well as Pink Print Co. in the East Village. Recently, we've found even more ways the East Village is on the move. These changes caught our attention for our holiday shopping this year:
Dornink has expanded into men's fashion by creating a mini shop within its shop under the name "B.vander." The menswear line includes everything from casual wear and comfortable basics to men's suits, both off the rack and by order. Owner Sarah Dornink named the shop after her grandfather, Berend VanderWoude. You can see some of the new offerings on the B.Vander Facebook page.
Last week marked the 10-year anniversary for Aimee, an eclectic boutique that offers a limited number of each garment and a consistently changing array of European looks for women. Owner Amy Hassebrock has now opened a sister shop, Matilda Muse, to carry the same trend at lower prices (nothing in the store costs more than $58). Matilda Muse is located at 350 E. Locust St., about one block from Aimee. Find out more at www.matildamuse.com or check out its Facebook page.
After nine years at 400 E. Locust St, Accenti women's boutique has moved one block east to 311 E. Fifth St. The old space will now be leased by the expanding Salon Spa W.