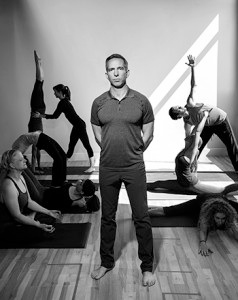 By Belle Du Chene 
Former Marine and personal trainer-turned-yogi James Miller plans to open the first-ever Adamantine Yoga Studio by Jan. 1 at 2925 Ingersoll Ave.
Miller is known for his yoga teacher-training workshops, for founding an Iowa yoga festival that attracts some of the nation's top instructors and for creating his own trademarked Adamantine style of yoga. The core of Adamantine consists of one sequence of 20 poses; the poses are scaleable so that each pose has beginner and advanced levels.
Interested in learning more about the practice with a goal of teaching? Two "Adamantine Yoga Immersions" will take place Jan. 24-25 and May 30-31. To find out more, visit adamantineyoga.com. Read more on Miller and Adamantine yoga in an article in dsm here.