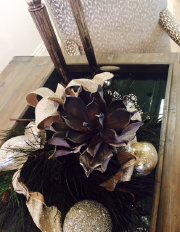 By Belle Du Chene 
Are you looking for a few more ways to deck the halls during holiday gatherings? Or do you need inspiration for a last-minute gift? We asked K. Renee stylist Dana Luke to share her thoughts on festive interior decorating. Her answer for the home or that hard-to-buy-for family member? A serving tray.
"I know it might seem a little ordinary, but a great serving tray can actually be quite extraordinary," Luke says. "It's both versatile and functional and can be used on almost every surface in your home." She suggests using them on anything from an ottoman, to a coffee table or a console table to a nightstand or a vanity.
At the top of her list of reasons for investing in a tray is its practicality for serving appetizers and small bites. "Remember that presentation is everything," Luke says. A slate tray provides contrast, allowing your dishes to become "vibrant and attractive," she says.
A second option is to use a silver, wood, gold or mirrored tray as a centerpiece and then decorate it "with pine cones, evergreen, glittery ribbon and holiday ornaments to create a jolly dining table display." Adding these elements brings a bit of eye-catching holiday cheer to surfaces in your home.
Luke also suggests using a tray on a vanity to create "a calm and relaxing guest bedroom and bathroom." To do this, she starts with a stone or silver tray, then adds shampoo, conditioner, candles, fresh flowers and soothing lotions or soaps. "You can also use an oversize tray to display two cozy robes and slippers for your guests to cuddle up in," she suggests.