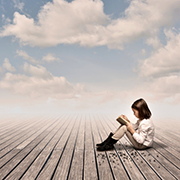 By Belle Du Chene
Dr. Seuss once wrote: "The more you read, the more things you will know. The more that you learn, the more places you'll go." This winter, you can take those literary journeys with others who share your interests.
The Animal Rescue League of Iowa's Bow Wow Meow Book Club members read a different animal-related book each month and then gather to discuss it on the first Tuesday of each month at 6 p.m. in the library at ARL Main (5452 N.E. 22nd St.). RSVP is not required. This month's book is "Animal Madness: How Anxious Dogs, Compulsive Parrots, and Elephants in Recovery Help Us Understand Ourselves" by Laurel Braitman and will be discussed Feb. 3. Past favorites have included "Secretariat" by William Nack, "Life of Pi" by Yana Martel and "Rin Tin Tin: The Life and the Legend" by Susan Orlean. Click here for more information on the club.
The Des Moines Art Center's Members' Book Club joins art enthusiasts and book lovers the second Sunday of each month from 2 to 3:30 p.m. in the Art Center conference room (4700 Grand Ave.). Members discuss books that complement the art on view at the Art Center. February's selection is "I.M. Pei: Mandarin of Modernism" by Michael Cannell, which will be discussed Feb. 8. The book club is exclusive to Art Center members. To join or learn more about the club, contact Jenna Ekstrom by email  or call 271-0327.