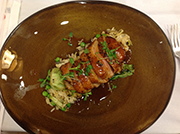 By Wini Moranville
At the city's first Culinary Fight Night, which was was held Sunday night at the Des Moines Marriott Downtown, chefs Dominic Iannarelli of Splash Seafood Bar & Grill and Mike Holman of Dos Rios Cantina and Tequila Lounge battled it out in a Las Vegas-style boxing ring setting, preparing a three-course meal for a panel of judges (including yours truly). Behind the scene, their sous-chefs prepared the same meal for an audience of around 150 people.
As the winners were set to be announced, one of the other judges, reigning Miss Iowa Aly Olson, said, "This is so sad! I want them both to win!"
I couldn't have agreed more. While Iannarelli's stunningly plated first course (crispy sugar-cane shrimp and rocket salad with Manchego dressing) tasted wonderful and handily won the most points for presentation, one bite of Holman's Tabasco-seared scallop with gingered sweet potato, warm white chocolate sauce and bacon sent us all swooning, in spite of its plain-Jane appearance.
Main courses were equally close: Iannarelli served up a Szechuan peppercorn-crusted filet (perfectly cooked medium rare) with lobster sauce and sea urchin risotto, and added a few judge-swaying shavings of black truffles for a dish that was all about opulence and seduction. It was going to be hard to beat.
But in a daring move, Holman rolled the dice with a duck breast (a risky choice, considering not everyone around here loves duck). The breast, cooked to rosy-pink succulence, brought a wonderful play of contrasts: a honey glaze against dynamic warm spices; and the rich, tender meat against the bright, crisp baby bok choy and fried leeks. "OMG! The duck!" was a general consensus.
The dessert course was equally close, but in a different way: The judges agreed the finales were neither chef's forte that night.
In the end, by a nail-bitingly slim margin of points (359 to 357), Mike Holman took home the title. Another winner was  Central Iowa Shelter and Services, as proceeds from each ticket were donated to the charity.