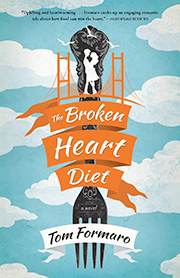 By Wini Moranville
In Tom Formaro's novel"The Broken Heart Diet," lovesick chef Dante Palermo chooses to do more than lick his wounds on Valentine's Day. Instead, he hosts a special evening at his restaurant for people not in a relationship.
"The event was a chance for singles to have a little fun, a great dinner in a romantic setting and meet new people," says Formaro, a local author. "It was a way to celebrate singleness with joy. Alone doesn't have to mean lonely!"
This Feb. 14, truth will mirror fiction as Formaro teams up with his brother, George Formaro (a real-life chef-about-town), and Centro chef Derek Eidson to put on "FoLoLi, Festa di Sera Rosso" (Feast of the Red Evening), an event to celebrate food, love and life. The event will be held in Centro's private dining room, with communal-style tables that seat 10 to 12 people together.
The menu kicks off with an arugula salad with goat cheese and orange vinaigrette, then moves on to hand-cut pasta with Pecorino Romano, butter and black pepper. The entrée will be chicken saltimbocca, and for the finale, guests will enjoy an affogato, vanilla gelato with espresso chocolate sauce, and a biscotti.
Relationship-readiness coach Janet Tingwald of Ready to Find Mr. Right will be on hand, passing out dating-tip cards for those who want them.
Dinner costs $55 per person, with early-bird pricing at $45 a ticket through Jan. 31. Tickets are available through Eventbrite. Centro is at 1003 Locust St.; 248-1780.