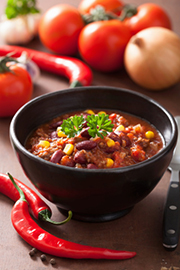 By Wini Moranville
Now that winter is back, the Fifth Annual Chili Cook-Off Feb. 6 will undoubtedly hit the spot. Held in the Capital Square atrium in downtown Des Moines, the event benefits the Leukemia and Lymphoma Society.Ticket-holders can sample competing chilis, including entries in the professional, amateur and vegetarian categories, and sip beer samples provided by Doll Distributing.
Last year's champ in the professional category, Sam & Gabe's, will not be returning; however, the runner-up, Jethro's BBQ, will be back, vying for the top spot. Other contenders include Big City Burgers and Greens, Tally's Restaurant and Catering, Woody's Smoke Shack, Cafe Di Scala, Gusto Pizza Co., private chef Don Hensley and Fleming's Prime Steakhouse & Wine Bar.
Last year's first- and second-place winners in the amateur category, Kyle Barton and Ed Clausen, respectively, will be back to defend their titles, as will Tally's, which won the "People's Choice" award.
When asked what surprising or intriguing ingredients have shown up in the chili recipes, organizer Marcie Morrison said that many of the cooks have kept their secrets close to the vest. Bacon, however, has been a popular ingredient, and Templeton Rye has appeared now and again.
The event also includes a silent auction. Up for bidding are a basketball signed by Fred Hoiberg, a vegan dinner for four prepared by Sheree Clark, a Wine Styles tasting for 20, and a cooking class at Malo led by chef George Formaro.
Judging the event are a panel of TV anchors, media types and food pros, including Chris Diebel, Sonya Heitshusen, Andy Fales, Heather Burnside, Bill Stowe, Teresa Adams-Tonka, Courtney Johns, Mark Doll and … yours truly.
The event costs $15 in advance/$20 at the door; purchase advanced tickets on the Roasting Cancer Website.