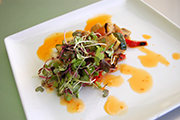 By Wini Moranville
Some children are so fragile, you want to wrap them in Bubble Wrap….
According to Cheri Burns, ChildServe's director of development and community relations, that comment was a catalyst for Bubble Ball, the organization's annual fundraising gala. Now in its fifth year, the event showcases the work of more than 60 local designers, architects and other gifted professionals who create costumes and other works of art–entirely from Bubble Wrap–for a colorful runway show. This year's ball, March 28 at the newly remodeled Capital Square atrium, will feature comedian and magician Ben Ulin as emcee and music by the Brazilian 2wins.
Recently, I had a chance to sample what's on the menu for the event when I joined Burns and other organizers for a preview tasting. Chef Mike Holman at Catering DSM is overseeing the food for the sit-down dinner.
This year's theme is children's movies, and Holman's creations follow suit. Inspired by a well-known Parisian rodent who dreams of becoming a chef, the grilled ratatouille salad brought a fresh angle to the dish (which is usually stewed). The entrée, a beautiful bone-in pork chop with Star Command Sauce (an elegant star anise and poached pear demi-glace), plays off the movie "Toy Story." For dessert, a baked apple with caramel-crème anglaise offers a nod to the poisoned fruit that sent Snow White into her deep sleep.
Established in 1928, ChildServe now serves over 2,500 children and adolescents with special healthcare needs, providing pediatric rehabilitation and home, community, and residential care and support services.
The ball begins at 7 p.m.; tickets cost $150 per person and may be purchased on the website.